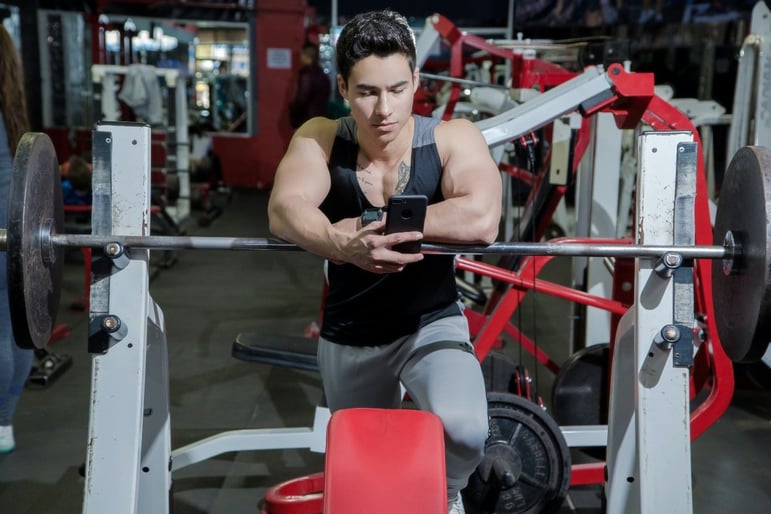 Can you believe the first text message was sent nearly 30 years ago? With billions of people around the world sending billions of text messages every day, SMS seems to be the perfect way to reach people passionate or curious about fitness, health, and wellness where they spend hours every day.
However, businesses have been pretty slow to see just how powerful texting can be for bringing in new members, retaining existing members, and re-engaging those who've canceled their membership. If you're ready to stand out from the competition and leverage text campaigns to grow your gym, studio, or club, keep reading.
Why Use Text Messaging to Gain and Retain Members
Text messaging is one of the fastest ways to communicate with your members, and the average person responds faster to texts than to other modes of communication.
In fact, mobile open rates are as high as 98% and mobile messaging click-through rates (CTRs) range from 20-35%. Email open rates, on the other hand, are only around 21% and click-through rates sit at an average of 2.62%.
More and more people prefer to receive text messages from businesses, too, with 41% of consumers surveyed saying they'd rather receive brand update texts over emails. But although texting with their favorite brands is becoming more and more popular, only 68% of businesses report using some form of messaging to connect with customers.
Step ahead of the competition and meet your members where they are—their smartphones! Consider this: You could send a text message to all of your leads with a limited-time sign-up offer to get ready for summer and have a roster full of new members with minimal effort in no time.
3 Tips for Texting
Prospects and
Members
Before you even get started launching a text campaign to current or prospective members—not to mention those who've canceled their membership—here are some basic pro tips to remember.
1. Don't Buy Lists
Long gone are the days of buying massive lists and spamming random people to join your gym or club. If you buy a list and start sending text messages to people who don't know your business or didn't give you explicit written permission to contact them, you're asking for legal trouble.
In the United States, for example, the FCC's Telephone Consumer Protection Act (TCPA) is the primary regulator of SMS marketing and delivers hefty penalties to businesses that violate text messaging privacy laws.
Remember: A text message buzzes in a pocket or on a wrist, and it's a much more personal and direct touch than an email that goes stale or gets lost in an inbox. If you're creating lists of people to send text messages to, make sure you've got written consent.
2. Create Segments Before Texting
Rule number two is to never send out mass text messages, even if everyone on your list has opted in for text messages. This might result in many not reading the rest of the texts you send. Yes, there are exceptions to this rule, such as to announce a closure because of a blizzard or upcoming holiday hours, but 99% of the time, you don't need to send a blanket text to every member.
We recommend creating at least three segments in your member database:
Current members:

This segment should receive texts about upcoming classes, special events, promotions or other discounts on automatic renewals, and other relevant messages.

Prospective members:

This segment should receive texts offering them tours, free day passes, discounts for signing up for a specific duration, and so on.

Canceled members:

This segment should receive texts focused on getting them to sign up again by offering a free day pass or

some

other discount. Be sure you give them the opportunity to opt out in case they really are done forever (e.g., "Reply STOP to cancel.")
It's also useful to create more granular segments based on what you know about your members. Creating a segment for people who buy a lot of power bars or other merchandise or a segment dedicated to members who take specific classes can help you upsell members on things they know and love, which can boost revenue.
3. Keep Texts Short and Sweet
We're all distracted and overwhelmed by content every single day. When sending out a text, ask yourself two questions: Who is receiving this message, and what do I want them to do after receiving this message? Make sure your message is concise and that the action you want them to take is clear. For example: "Get fit for summer with 20% off your Forever Fitness membership. Reply Y to join now!"
Also, consider what time you're sending an SMS. An email sent at 6 a.m. probably won't grind anyone's gears, but a text message buzzing on a nightstand at 6 a.m. is going to turn off prospective and current members.
8 Text Ideas to Keep and Gain More Members
There are countless ways to use SMS to reach your members — past, present, and prospective. With automation, personalization, and the right segments in place, your texting options are endless. Here are some of our favorites text campaigns to add to your marketing plan:
Offer a prospective member a free guest pass

Follow up with a prospective member

who took a tour or used a free pass and invite them to join or ask questions

Send automated appointment reminders and confirmations

Text automated welcome messages to new members or say thanks to members who renew

Message members about equipment maintenance, closures, or current COVID-19 health and safety policies

Deliver personalized promotions, coupons, and limited-time offers, such as offering t-shirts to the first 50 members to renew their contracts or a bring-a-friend promotion where friends workout for free

Send out feedback or experience surveys to learn more about your members

Segment your members by their renewal period and then send automatic texts as those renewal periods crop up during them to renew
Get Started:
Grow Your
Business
with Club OS
Although you could DIY your text messaging strategy, a trusted partner like Club OS can help prevent leads from falling through the cracks, streamline member communications, and boost revenue.
Club OS can help you set up, organize, and monitor the success of your texting campaigns so you can make smarter, data-driven decisions going forward too. Also, Club OS lets you automate your SMS campaigns and comply with texting and privacy laws while you're at it.
Schedule a demo of Club OS today and start reaching people where they are—on their phones!