Note: This is a continuation of our mapping series. Be sure to check out our blog on Google Maps as well.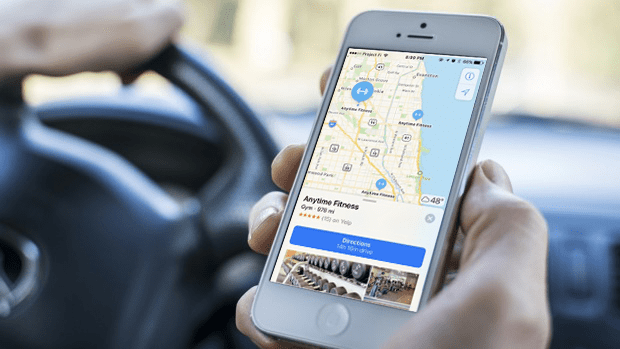 On January 9, 2007, Apple announced the iPhone. Fun Fact: It's technically just "iPhone." As in, "yada yada yada, Apple announced iPhone." In the 10+ years since that announcement, Apple has sold 1,000,000,000+ iPhones.

While not all of those 1 billion iPhones can run Apple Maps, the majority of those still being used today certainly can. And let us not forget that Apple Maps is also available on iPad, Apple Watch, and Mac computers. With that high of a potential user base, Apple Maps is not something you should ignore. With this blog we're going to make sure all of those happy Apple Maps users can easily locate your business and also see some great photos and reviews.

If you've been a user, or even simply just heard of Apple Maps since its initial release in Sept 19, 2012, there's a chance you may have some trepidation regarding its power and stability. We can't blame you considering its release resulted in the firing of some Apple executives due to poor performance and features. Fear not! Since its release, Apple has been making incredible headway with Apple Maps. This includes acquiring numerous map-specific companies and even starting their own Google Street View competitor by driving phototaking cars all over the world.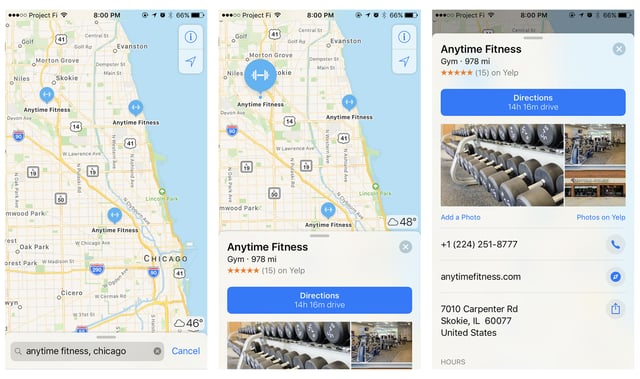 "Ok, how do I get my fitness business to show on Apple Maps?"
We thought you'd never ask. To start the process of getting your business listed on Apple Maps, or to edit an existing listing, you need an Apple ID. If you have an iPhone, iPad, or Mac computer there's a good chance you already have one of these. If you don't, there's an easy way to register and get one. In either case, just scroll down to Step 1 to get started.
Step 1: Getting into the system.
Go to https://mapsconnect.apple.com and log in using your Apple ID. If you don't have one, simply create a free one. After logging in or creating your account simply follow the instructions until you reach the business search page as shown in Step 2 below.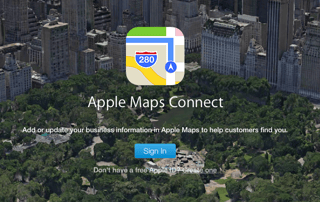 Step 2: How to find your business or create a new one.
Before you're able to add your business, Apple forces you to do a search since there's a chance it's already on Apple Maps. This search form is where you'll find out. Simply enter your business name and location into the search areas and click "Search."

Step 3: Adding your business.
Don't see your business in the search results? Have no fear! This is how you can add it. At the bottom of your search results you'll see "Add New Place." Just click that.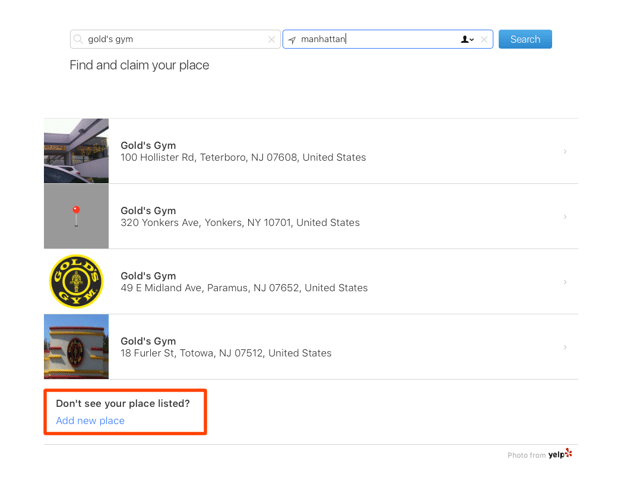 Step 4: Adding your information.
Now for the fun part! Add all of your pertinent business information. Try not to leave anything out. This includes categories and subcategories so that your business can be found.
Bonus: If your business accepts Apple Pay then you'll be able to request some Apple Pay badges for your location. You'll see the Apple Pay prompt when in the "Apple Pay" section of this form.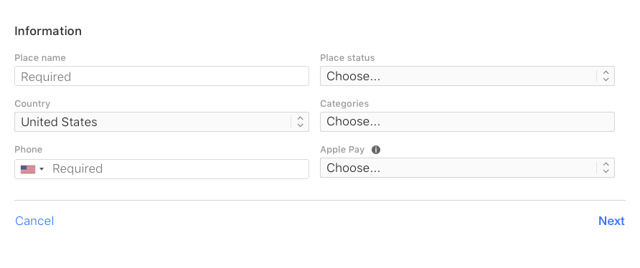 Step 5: Verification
Now it's time for Apple to verify that you're really someone that should be adding places to maps. Don't worry, it's just a phone call. Double don't worry, even if you can't receive the verification phone call now, you can do it later. So either complete the verification now, or click "Verify later" and head to Step 6.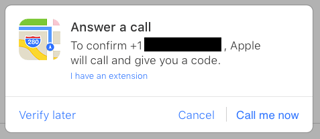 Step 6: Even more information for your business profile. Excellent!
In this step they'll walk you through positioning your location on a map as precisely as possible while also having you enter in your schedule and social media profile URLs.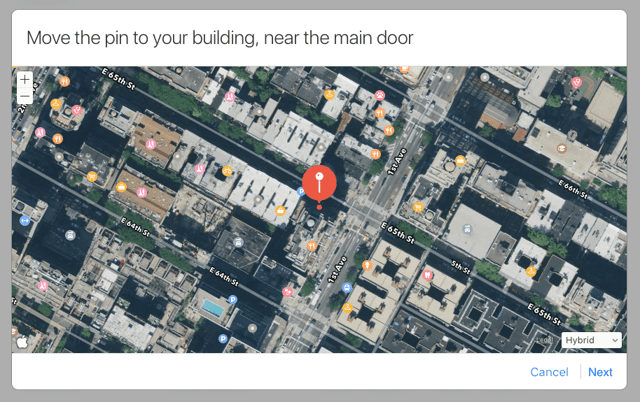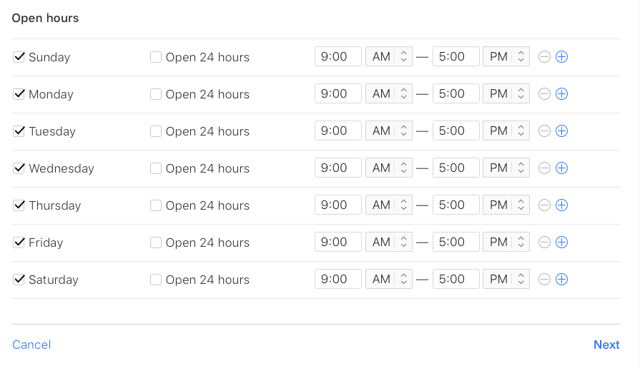 Please ensure you include the Yelp URL for your business as that's where your reviews and photos auto-populate from. For more information on that, check out our "Bonus" step at the bottom.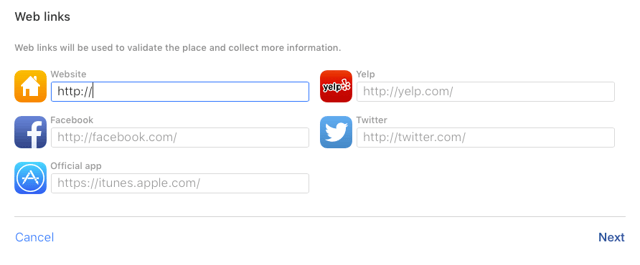 Step 7: Success!
If you've completed the verification process then you're done! If you ever need to make edits to your social profiles or schedule, just log back into your Apple Maps account and click the blue "Edit" links.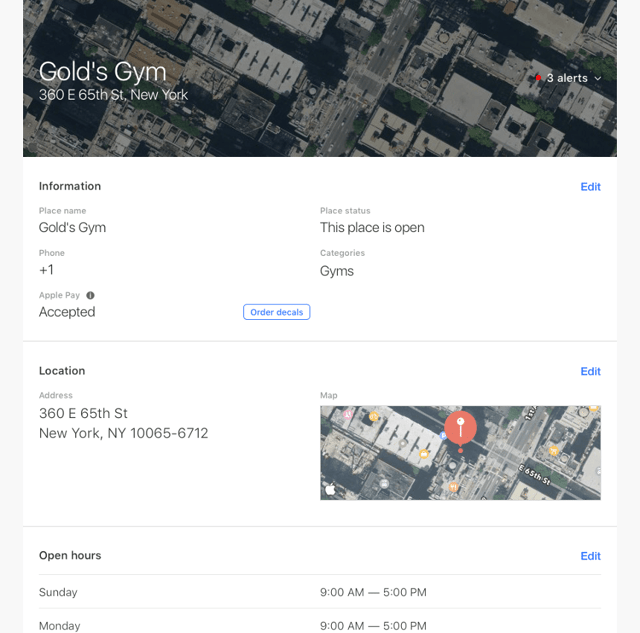 Bonus Step: Where your Apple Maps listing reviews and photos come from.
If you want to make photo changes to your Apple Maps listing, simply head over to Yelp as that's where they come from. This is also where the reviews for your business populate from, so spend some time increasing those 5-star reviews on Yelp! If you don't have control over your business page on Yelp, we suggest taking care of that ASAP: https://biz.yelp.com
P.S. If you have any Apple Maps related questions you can check out their FAQ: https://mapsconnect.apple.com/ui/help/t?t=1&lang=en