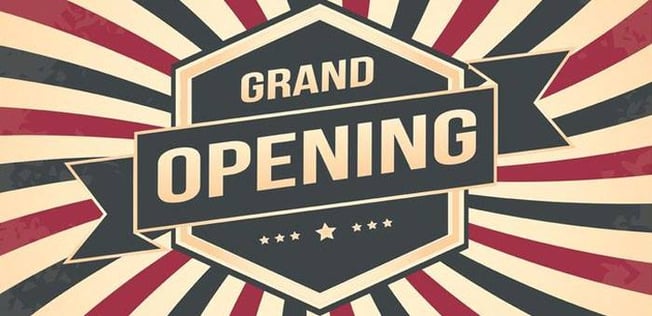 I get it. You're tired. You just poured your heart and soul -- and most of your bank account -- into starting your own fitness club. It's hard work securing building permits, raising funds, hiring staff, and purchasing equipment. Now that you've done the heavy lifting, you might be tempted to just throw open the doors and invite family and friends to split a celebratory cheese platter.
Don't underestimate the impact a grand opening can have on your business. This club is your baby, and like the exclusive preschool that requires four letters of recommendation, sometimes you have to hustle to give them the best starting point possible.
Maximize your visibility
How easy is your club to find? Are you right off a major highway or lost in a maze of neighborhood streets or an expansive shopping center? The last thing you want is potential new members arriving at your event completely frustrated.
If extra navigation is required, invest in helpful signs to guide prospects to your door. If your storefront blends into an endless line of cloned shopping center entrances, make it pop with streamers, balloons, staff greeters, or yes, even the classic wavy arm inflatable tube man.
Engage, not sell
While signing new members is a part of your grand opening, it isn't the focus. Frame the festivities as social engagement rather than a sales presentation. This is about announcing your presence in a community and building relationships with the people who live there. This may be the first in several steps a new lead takes from prospect to member.
All hands on deck
If possible, schedule your full team to participate in the event. Especially, those in member-facing positions like trainers, membership managers, and front desk staff. Potential members are evaluating both your facilities and the team you've assembled.
Empower your team to be ambassadors for your club by ensuring they're knowledgeable about your services, hours, pricing, and ongoing community events. Provide them with concise cheat sheets of relevant information they can reference or hand out to any leads they connect with.
Give people a reason to stay
You can't engage with someone who walks in, checks the pricing, and is back in their car in under three minutes. Think back on free events that have kept you engaged for a half hour, if not longer. What was it that stopped you from heading home?
Free food and drinks pull people in but won't necessarily keep them past an empty plate. Consider hiring a DJ or live band to inject energy into the event. Host free classes for the day to showcase your trainers' expertise and the value of your services.
Partner up
Seek out collaborations with local health and wellness businesses. By offering related services at your grand opening, you're adding value to an attendee's experience. Additionally, cross-promotion is a great way to reach potential prospects who otherwise may not have discovered your club.
A great way to identify potential business partners is to create a few buyer personas -- profiles of your ideal members. These are not based on real people but rather your knowledge of your market demographics. What kind of members are you looking for? How old are they? What's their occupation or median income? Once you've created a few buyer personas, use this information to identify businesses that serve similar clientele.
Quickly collect prospect info
Though this is not a sales event, you don't want to waste opportunities to gain new prospects. Before the event, train staff members on entering new leads into your sales software -- preferably on easy to access tablets. The right sales software will enable you to enter a new prospect in a snap, so they can get back to enjoying the festivities as quickly as possible.
Give something away
Who doesn't love swag? Pens and stress balls are perennial favorites at a relatively low price point. Custom pint glasses are a bit more ambition but break the monotony of typical swag. And T-shirts are always a great option because every time they're worn they boost your brand awareness in the community.
Take it one step further by raffling a free year of membership. This is a great way to organically build leads. Raffle tickets should include a space for a prospect's name, number, and email address. The cost of comping one membership should be easily made up by the list of prospects it generates.
After your successful grand opening, make sure you're ready to follow-up with new leads. Download our free Email Marketing e-book!