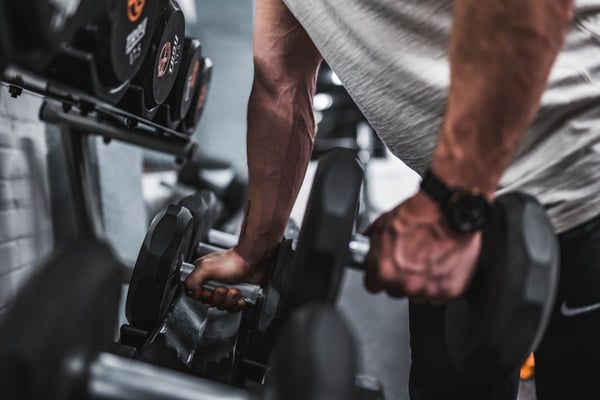 It was mid-January when some of us from Club OS and ASF met outside a warehouse in Littleton, Colo. The purpose was to review the final stages of construction for an enormous tradeshow booth.
Within the two organizations, one a marketing and sales tool and the other a club management and billing solution, there had been talks about combining efforts for the upcoming IHRSA. The solutions themselves worked well together, though talk of a combined offering was still in its early stages.
As we gathered, and surveyed the structure, we agreed that gyms need the functionality of both logos on this booth, but they need a host of other functionality as well to cover the member journey.
By our estimation, there were about 50 other booths that would be at IHRSA, with other brands, some competing with our own, that could join in the construction. We left it there but considered building out a comprehensive list while at IHRSA of the tools we thought our customers could really benefit from outside of our own.
Well, you know how it all ended up, don't you? There was no IHRSA.
Like the rest of the industry, we've had plenty of time to take stock of the new. Now that we've been in the throes of COVID-19 since March, the challenges facing our industry are shockingly pertinent to the ideas we began discussing in that warehouse in January.
Now, more than ever, business leaders need simple resources to understand the landscape and how to leverage the tools within it.
Enter GymTech.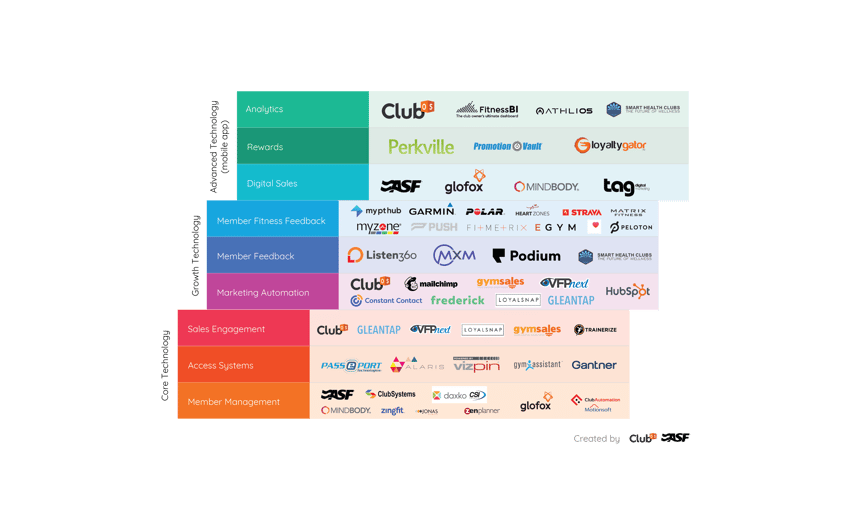 What is GymTech, exactly? On the surface, it's an organizing principle to make sense of the vast and complex technology landscape that the modern fitness business has to navigate.
Here's the headline version: The GymTech landscape below defines what we believe are the most important technology needs, nine total, in order to cover the entire member journey. The needs are, for the most part, in linear order from the touchpoints you would have with prospects to the repeat interactions with your members as you continue to engage and, hopefully, retain them.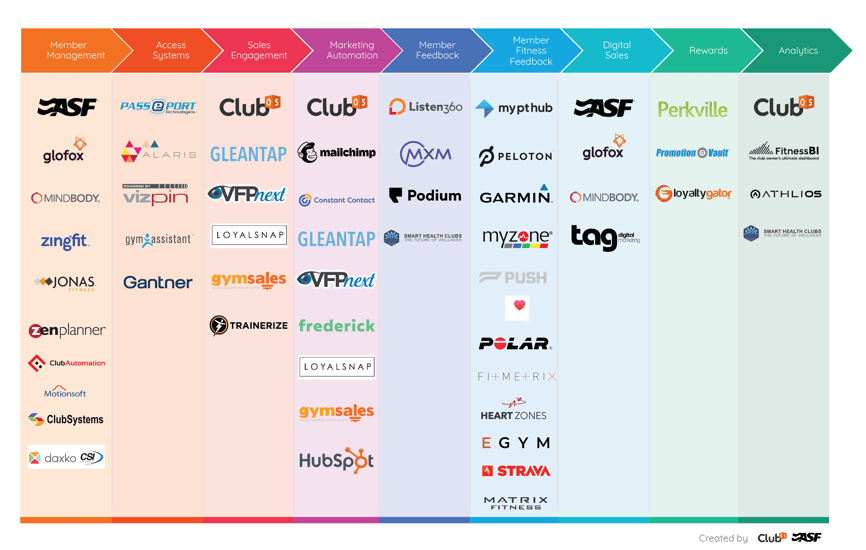 Our goal was not only to demystify the overall landscape but also to offer a bit of a compass, providing some key cardinal directions and some clarity about where you are and where you should likely go.
What's important for us here is that our GymTech landscape, as we've chosen to define it, isn't simply a bit of sales collateral, where all roads lead directly to our product. Yes, we have a role to play within the model, but more importantly, you'll recognize many logos here that aren't our own.
The distinction is that the logos we've included, we believe, provide products that are designed in a way to uniquely address the growth and operational issues facing fitness businesses specifically. Of course, there are market-leading software and service vendors out there that everyone from your local gym to the law firm downtown know all too well. We've excluded them, again, because while they might be "impressive" tech, they certainly aren't GymTech.
There's been much talk of "ecosystems" in our industry, especially as it relates to technology—and even more as it relates to COVID-19 impacts. So you can imagine the utility of our landscape definitions being helpful in selecting your specific ecosystem of choice to cover the member journey.
However, and we feel it necessary to be explicit here, our concept of an "ecosystem" of solutions differs from some of our competitors in one key way: they want to define it for you, including the logos. We don't. In each category of needs, we show multiple tools, not just the single tool we want you to consider.
In the coming months, we'll be diving even deeper into this idea, providing some insights on how to use this information to assess where you are in covering the member journey. We've even created a handy one-sheet that lets you see what GymTech your business might need based on its size, which you can download here.
Along the way, please let us know what you think. How have you been defining and navigating this landscape? What have you learned? What are we missing? We expect this topic to continue to evolve as we enter 2021 and confront the next set of challenges and opportunities that await us.