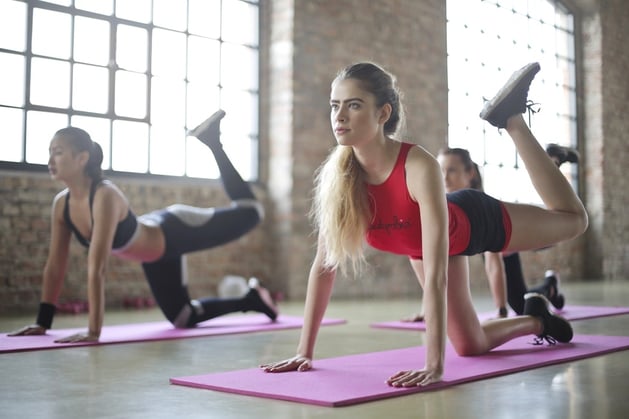 Often referred to as the "studio boom", group fitness has taken the fitness industry by storm over the last five years. It's so popular, you can't really describe it as a boom anymore. It's a key corner of the fitness market now: "...18 million health club consumers signed up for [small group training] in 2016, accounting for 26.6% of the total consumer base," as reported by IHRSA.
Consumer enthusiasm has driven group fitness' meteoric rise in the industry. This blog explores the reasons why both gym members and studio clients love group fitness, and why fitness professionals should love it too. For additional insights, we asked Club OS team members to weigh in on what they love about the group exercise they attend.
It's Affordable
Why Clients Love That
Don't get us wrong, everyone knows personal training is an awesome tool for reaching your fitness goals, but it comes with a hefty price tag. In many cases, personal training is prohibitively expensive for consumers, especially young people grappling with student loans and working starter jobs.
Group fitness offers a trainer-led workout at a much more wallet-friendly price point. Without breaking the bank, clients have direct access to a trainer to workout safely and to answer any questions they may have.
Why You Should Love That Too
While the reduced price tag of group fitness might sound like a loss of revenue, it's actually a pay bump. Instead of locking a trainer in with one client for an hour or half an hour block, group fitness maximizes a trainer's time by giving them an entire group of clients. That means more revenue for the club and more commission for the trainer.
"As a former trainer, I loved group fitness because I could earn more commission than with traditional PT," Kristen, key account manager, explains from her experience on both sides. "Now that I've gone from trainer to client, I love the affordability of my regular group training classes."
It's Community Based
Why Clients Love That
You know how you're always hearing adults throw their hands up in frustration, exclaiming, "Ugh, I have too many friends!" Yeah, not quite. It's no secret it's not easy to make friends as an adult, especially while working forty or more hours a week. Group fitness builds a community, giving people a chance to have high-energy fun in a social setting. Couple that with the mood-boosting benefits of exercise and you have the perfect after work plans.
Why You Should Love It Too
You want your club to be a community! A place full of camaraderie that clients love walking through the front doors. Not some dreaded place where they force themselves through a punishing routine they secretly resent.
"Camp Gladiator keeps me coming back because I can't get enough of the environment and the rush of endorphins from each workout," Mary Kate, senior implementation associate, tells us. "I definitely have a we're-all-in-this-together kind of mentality during each class, and that sense of community always keeps me smiling, pushing through, and having fun!"
It's Motivating
Why Clients Love That
Solo workouts are a great way to find a little solitude. Just you, your music -- or let's be honest, true crime podcast -- and the never-ending drone of the treadmill. But that arrangement can get lonely fast. With no one around to push you, it's easy to let yourself quit one rep early. Group fitness adds that extra motivation to keep clients pushing through to the end.
"I like being in a group of other people who likely are just as lost as I am! I always sneak peeks at my instructor and my classmates during tough poses to make sure I'm doing them somewhat correctly," Paige, business development representative, explains about her Vinyasa yoga class. "Knowing that I'm in a room of people who are in the same boat gives me the motivation to move past the anxiety and into Adho Mukha Svanasana (downward-facing dog)!"
Why You Should Love It Too
Your clients' success is your success! You want fitness goals achieved in your gym or studio. It makes you look good, and even better, it makes your clients feel amazing. The more motivation your clients have to keep striving, the better for your business.
It's Competitive
Why Clients Love That
Group fitness automatically bakes in a level of friendly competition. We all want to beat our personal best, but secretly we want to beat Jennifer's personal best, or Mike's, or Tyler's, or really anyone who happens to be next to us in class. Competition adds a new dimension to a workout that keeps things interesting and highly engaging.
"I like challenging myself to be better than the person next to me," Amanda D., implementation associate, says of in-class competition. "It's a great progress check to see how I'm stacking amongst my peers."
Why You Should Love It Too
If you want attendance rates to rise in your club, you need a little competition! A recent study of 790 grad students from the University of Pennsylvania compared fitness attendance rates between competition-based groups and social support groups and found "attendance rates were 90% higher in the competition-motivated group" (Medical News Today).
It's Accountable
Why Clients Love That
There are dozens of reasons not to go to the gym or studio. It's too cold, it's raining, it's been a long day, the car's acting up, dinner hasn't been cooked, and on and on and on the excuses build. Which is bad news, because solo workouts make you accountable to exactly one person: you. And it can be embarrassingly easy to talk yourself into making the comfortable choice rather than workout.
Group fitness makes you accountable to a group of your peers, which makes it harder to skip because your friends are expecting you. "Every Thursday I go to yoga with Amanda Y., director of implementation, after work," Emily, manager of enterprise implementation, tells us. "Even if it's been a long day, I know I'll make it to class because I don't want to let her down."
Why You Should Love It Too
Group fitness builds retention! The more personal connection a client has through their group training and classes, the more reason they have to show up. Regular attendance is the best way to boost the likelihood that a client will stay with your gym or studio long term.
Want more resources? Download our free Sales and Retention Handbook created specifically for fitness studios!