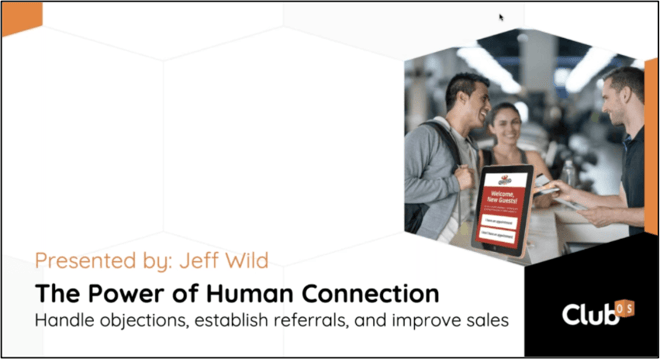 This three-part blog series is based on our recent webinar "The Power of the Human Connection" hosted by Jeff Wild, Director of Sales. Pulling from years of sales and fitness experience, Jeff highlights the critical sales skills you and your team need to find continued success in your fitness business.
In part one, Jeff dives into how to convert more leads by improving your sales process. Parts two and three coming soon!
---
While it's important to cultivate a strong flow of new prospects into your fitness business, it doesn't amount to much if your conversion rate is low. Converting more leads starts by overhauling your sales process. Here are six steps you can take now.
1.) Create Buyer Personas
Buyer personas are generalized profiles of customer types that your fitness center serves. Buyer personas help you categorize prospects to understand their needs, potential objections, and which club services they are most likely interested in. Buyer personas could include single-member, couple-membership, family packages, or high-income prospects. Get started with our free buyer persona templates.
2.) Tailored Tours
Your buyer personas should highlight the varying types of prospects coming through your door and make it obvious that offering one canned club tour isn't an option. Not all prospects are the same, so create a custom tour tailored to each of your buyer personas. Ensure the tour spotlights the services, equipment, or amenities that are most relevant to that buyer persona.
3.) Ask, Listen, Confirm, Validate
This process is designed to uncover the prospect's "why", i.e. the goal they hope to accomplish by joining your fitness center.
Ask: During the tour, ask questions to gain additional background on the prospect and what brought them to your club.
Listen: Actively analyze not only what the prospects is saying but also what they're not saying. Prospects may not fully understand what they hope to accomplish beyond getting a good workout. Your job is to discover their true goals.
Confirm: Repeat back to the prospect your understanding of their goals in order to confirm you answered each of their questions and have a strong understanding of their challenge.
Validate: Ensure you understand their underlying reason for wanting to join a gym. This is the deeper goal that motivates their fitness journey. Understanding this is vital to creating a strong connection between your gym and the prospect.
4.) Understand Common Objections
Just as each buyer persona has specific services or amenities that appeal to their goals, each buyer persona will have common objections. Budget-sensitive prospects will object on price while prospects with children may object based on a lack of time to workout.
Work with your salespeople to create a complete list of common objections for each buyer persona, then design your club tours to get ahead of objections before they are even introduced. This could mean showing time-deprived prospects a 20-minute workout circuit or highlighting the lower cost of your membership dues compared to your nearest competition to reassure budget-sensitive prospects.
5.) Sales Management
Setting goals for your sales staff is only a part of sales management. You also have to actively coach your sales team to improve their process. Schedule sales training around the ask, listen, confirm, and validate method and practice objection handling as a team. Most importantly, teach your sales staff to sell from the prospect's point of view, i.e. selling them on the specific ways your club will help them reach their goals rather than just selling them on the club as a whole. It has to be personal.
6.) Know Your Social Butterflies
The best salespeople are often overlooked in fitness centers: member advocates. Not every regular member wants to be an advocate, so identify your social butterflies. Those members who are deeply engaged in your club and love discussing their fitness journey. A great way to close a sale is to introduce a prospect to a member advocate from the same buyer persona. For example, introducing a prospect whose "why" is to get in shape to run their first marathon with a member advocate who is an accomplished long-distance runner. They can speak from a place of authority on how they use your facility to train for marathons.
Want more tips? Watch the complete The Power of the Human Connection webinar to learn more!