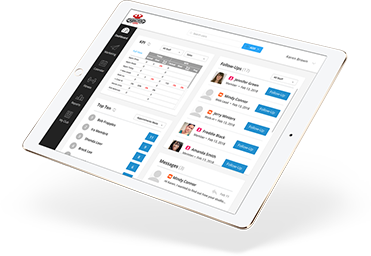 In business -- especially small business -- consistency is key. Your fitness center must deliver a consistent experience whether it's in the quality of your training programs, the cleanliness of your facilities, or the upkeep of your equipment. But when it comes to sales, how can you guarantee you have consistency? How do you know your sales staff are on the same page, maximizing every opportunity, and following up with every lead?
This is where a comprehensive customer relationship management software, or CRM, can amplify your sales team. There are three major ways that introducing software into your fitness business can create sales consistency.
1.) Prospect Data Entry
No matter how a prospect is identified by the sales team -- online, walk-in visit, or over the phone -- consistency in how their contact information is captured is key to making the most of the opportunity. In each case, CRM software will streamline the data entry process, reducing friction in the sales process and seamlessly organizing this vital data.
Online: When a prospect fills out a find-out-more form on your website, a social media channel, Google ad, or third-party provider, their information is automatically synced into the software and assigned to a sales team member for follow-up.
Walk-In Visit: When a prospect visits your club in person, the software's digital guest waiver hosted on a club tablet or desktop enables the prospect to quickly enter their own information. Once the waiver is completed, the software automatically uses the information to create a new profile for the prospect.
Over the Phone: When a prospect calls your club to inquire about your services or prices, your sales team can utilize the software's lead entry form rather than scrambling to write down their information on a notebook, sticky note, or random scrap paper. This replaces outdated paper entry methods and reduces lead slippage. Further, the lead form acts as an easy-to-follow guide, so even inexperienced staff will know exactly what information to ask for.
2.) Ongoing Follow-Up
No matter which way the prospect was captured -- online, walk-in visit, or over the phone -- the lead is funneled directly into the CRM software and added to your club's follow-up schedule. The follow-up schedule boosts consistency in your sales outreach by automatically reminding the sales staff to contact prospects and members regularly.
But not all prospects or members need to be contacted at the same frequency, so the software's follow-up schedule maps the customer lifecycle with individual follow-up tracks for each status like web lead, referral, active guest, member, and expired member. And because the follow-up schedule is customizable, you can program a cadence for each individual status. So, your sales team will be reminded to reach out to new leads at a higher frequency than they would for members who only need an occasional check-in from staff.
3.) Messaging
Despite the old stereotype of the silver-tongued salesperson who could talk you into buying a new set of tires for a car you don't own, not every person who finds themselves in a sales role is a natural public speaker. To help your quieter sales staff find the right words at the right time, CRM software enables you to enter prewritten sales scripts for each follow-up your staff will perform. Whether the follow-up is completed by email, text, or over the phone, sales scripts are an invaluable resource to make your sales team more effective.
Best of all, sales scripts help you and your team deliver a consistent message throughout the sales process. Consistency in messaging is a win-win for both you and your customers. It ensures every prospect and member receives the same high level of service across the board while you can rest assured that your team is maximizing every sales opportunity as outlined in your customer journey scripting.
Ready to use scripts in your sales workflow but not a writer? We've got you covered. Download our 2020 Fitness Sales Script E-Book for 36 free script templates!