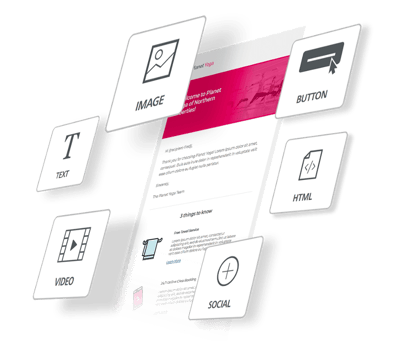 Email marketing is no longer optional in the fitness industry. It's integral to staying competitive in a crowded market. But unless you triple majored in marketing, photography, and web design, creating email content that breaks through cluttered inboxes can feel impossible. While email marketing software like MailChimp, Emma, or Constant Contact can help, they come with another costly monthly fee.
With this in mind, Club OS has overhauled its email builder feature with powerful new tools to make it easier than ever to create beautifully designed emails. Our aim is to lower any gym or studio's monthly costs by being a one-subscription solution for simplified client management, comprehensive reporting, and effective email marketing.
This upgrade will be available to our customers very soon! Want to be ahead of the curve? Take a look at a few of the new email tools we're most excited to share!
Building Simplified
Designing emails is as easy as dragging and dropping. The 'Rows' menu enables you to select premade content rows to structure your email.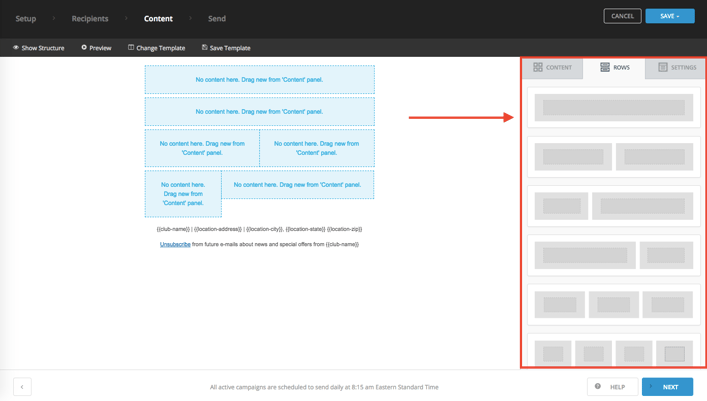 The 'Content' menu features seven content tiles ranging from Text and Images to HTML and Video. Drag and drop content tiles in the perfect place in your email body then add your text, image, or video.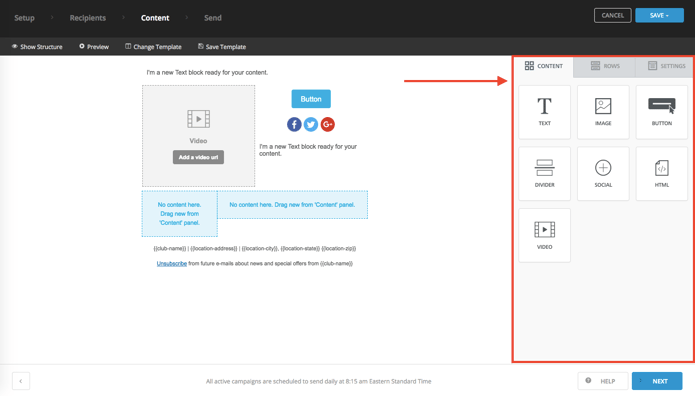 Need Photos? We've Got You
Chances are you don't have a professional photographer, or even a front desk staffer with a nice camera, to provide you appealing and content-specific photos for your marketing campaigns. Don't worry! We've got you covered. Access over 500,000 free stock images directly through the email builder. Simply search by keyword, select the perfect photo, and insert it into your email.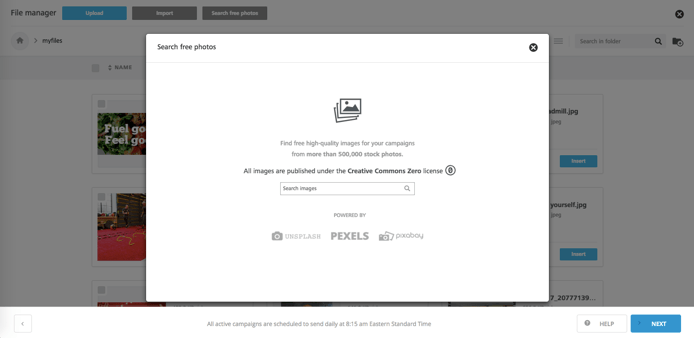 In-Email Video Previews
Include your gym or studio's fitness vlog, virtual club tour, or any other video content within your email marketing. The 'Video Tile' enables you to link Youtube and Vimeo video URLs to your emails. A video preview will populate within the email content, and when a recipient clicks play they will be rerouted to the corresponding video platform where the video will begin playing.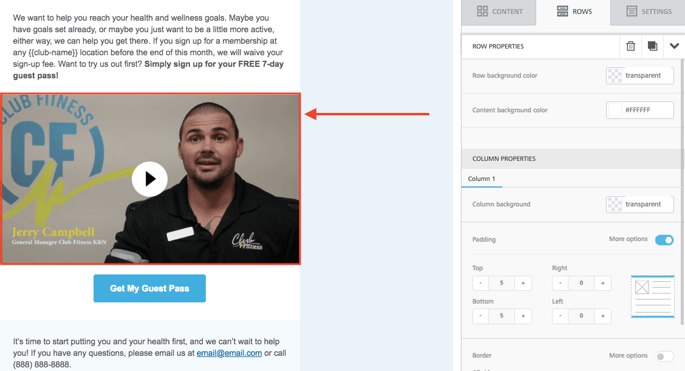 Call to Action!
Insert clickable call-to-action buttons to reroute recipients to your club website, promotional landing pages, fitness blog, or any other webpage you want to drive traffic. Custom label buttons to incentivize clicks such as Read Now, Learn More, or Start Your Fitness Journey.
Call-to-action buttons can also be linked to telephone numbers, email addresses, and mobile numbers for SMS messages. For example, if a button is linked to the club's email address and a recipient clicks it, a new email window will automatically open with the club's email address pre-populated. This is an awesome way to make it as easy as possible for prospects to contact your team when they're ready to take the next step.
Did we mention, images in the email builder aren't just for looks. You can replicate all call-to-action button functionality through images too. Turn that perfect picture into a clickable link to your website, email address, club number, or SMS number.
Link Supporting Material
Don't overwhelm recipients with an information overload. Stick to the most important details in the email body then attach supporting documents like class schedules, workout plans, and signup forms to clickable buttons or images! The email builder supports word documents, PDFs, and Excel files.
Socialize Your Emails
Social media is the public face of any gym or studio. When used correctly, social sites attract new prospects, update members on club happenings, and act as a platform to promote the club's mission. Select from 19 website icons to insert into your email. Link each site's URL to the corresponding icon to drive traffic and boost followers.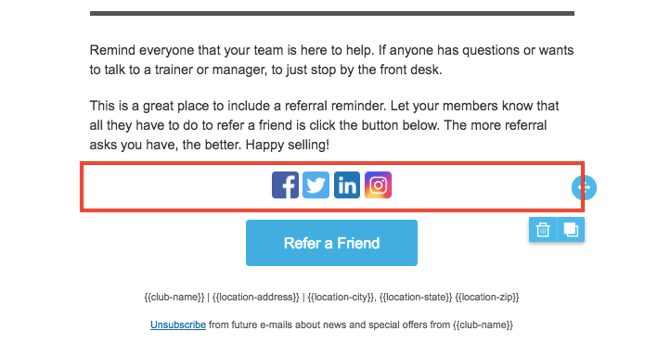 New to Club OS? Speak with a team representative to learn how the email builder (and all our awesome features) can strengthen your business!