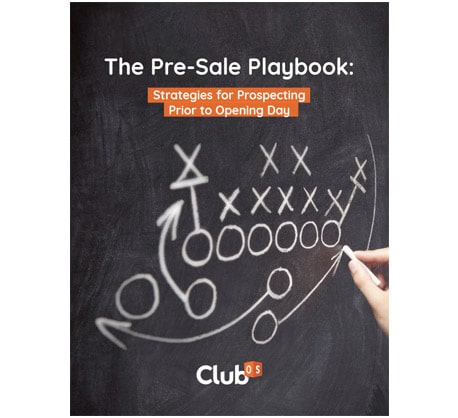 No one ever said starting a new business wasn't risky. You know the numbers: 20% of new businesses fail within the first year of operation, and the fail rate swells to 50% by year five according to the US Department of Labor. Despite the risks, Forbes projects approximately 543,000 new small businesses are started each month. Likely, you don't find that too surprising. Whether you're opening your first fitness business or your tenth, you know entrepreneurs are uniquely gifted with self-confidence. If you're taking the risk and decided to start your new business, then give yourself the best opportunity to win big.
You may be months away from opening day of your gym or studio, but success later requires action now. Implementing a strong pre-sale strategy is an absolute must to succeed. What exactly is pre-sale?
Pre-Sale
The designated period of time in which you actively introduce your brand, market to prospects, and sell memberships before your gym or studio officially opens. Think of pre-sale as jumpstarting your business. There's a certain romanticism to the idea of showing up the first day your club opens, unlocking the doors, throwing them open, and waiting for your first prospects to come strolling through the door. Likely, you'd be waiting a long time. This is business, you don't have that kind of margin for error that allows you to slowly build clientele. Pre-sale is designed so you don't have to start from zero on day one. Instead, the day you open your doors, you want to have established a sizable membership list and a prospect pipeline ready to work.
First Steps
1. When Does Pre-Sale Start?
There is no universal starting point for pre-sale. In the industry, there are many different milestones clubs use to designate their pre-sale kickoff, for example, when the flooring in the building is finished, when the fixtures are being installed, when a hard opening date is set, etc. It boils down to determining when is best for you and your staff to shift part of your focus to prospecting and membership sales. When determining your pre-sale start date, keep in mind there are actually two phases to pre-sale: capturing prospects and selling memberships.
Capturing Prospects
It's never too early to begin building interest in your club. Well, almost never too early. If you've purchased a franchise club, wait until your paperwork is finished before you start advertising. You don't want to identify dozens of potential leads with the promise that you're opening your franchise, only to later not be able to secure a license. However, once you have your license and are 100% certain you're opening a club in town, start locating prospects.
Selling Pre-Sale Memberships
Pre-sale memberships are memberships sold but not billed. They are essentially a contract of future association: once you open your doors the member will begin enjoying the facilities, and you will begin generating club revenue. Pre-sale memberships ensure your club starts generating revenue on day one.
You can technically begin selling pre-sale memberships as soon as you begin prospecting, regardless of how far out from opening day you are. Be sure not to bill the membership until the club opens. However, you must be upfront with pre-sale members. Let them know if your tentative opening day could possibly be delayed. Don't alienate potential members by making promises you can't keep.
2. Choosing The Right Tools For Success
Kickstarting a business is an expensive venture. There's no way around it. Buying equipment, licensing space, hiring staff, franchising fees -- the upfront costs stack up. That's why, even though implementing CRM (customer relationship management) software is the best way to manage your pre-sale effectively, you may be tempted to delay purchasing software until after you open the business. You're not alone, 51% of small businesses are reluctant to use new technology because it takes too long to implement and learn, according to Crowdspring. Sure, forgoing software could save you time and money in the short term, but so would filling up only half your gas tank before a road trip. In both cases, you're not going to get where you want to go.
Onboarding CRM software for your gym or studio should be a pre-sale priority. Like all software, there is a learning curve to comprehending and utilizing its features correctly. Give yourself and your staff time to explore the software before prospects and members join the equation. More importantly, utilizing software during pre-sale will pay dividends as it reduces time, boosts organization, and increases productivity in every aspect of pre-sale.
When comparing fitness CRM software look for a system that will enable you to perform the pre-sale tasks listed below quickly, simply, and effectively.

3. Understanding Your Prospects
Want to understand your business better? Learn about your customers. Whether your fitness business is a one-size-fits-all gym, or a specialty club focused on one demographic, "the more you find out about your customers, the more ways in which you can tailor your approach to demonstrate how your product or service can help them on a personal level..." (Oxford College of Marketing). Below are two specific marketing exercises you need to complete to better understand and market to your clients.
Buyer Personas
Buyer personas are character profiles you create around fictional members of your club. They're based on generalized information about your target demographics that summarize their particular goals, health needs, and desired services/amenities they are seeking in a gym or studio.
Creating a few buyer personas is an awesome way to better understand the members you want to sign and services/strategies you can develop to attract and keep them. There are a ton of free resources online you can tap into to learn more about buyer personas. Hubspot offers free templates and a buyer persona builder (see example image).
Segmentation
Segmentation is dividing your contacts (prospects and members) into smaller reach-out categories based on shared qualities. Segmenting your contacts allows you to promote club services and amenities directly to your contacts who would most benefit from them. For example, segmenting contacts based on age to promote new senior classes, or segmenting contacts based on family makeup to promote your childcare services. Google Analytics is a free resource you can add to your club website. Google Analytics tracks who visits your site, how they navigated to it, where they are located, their demographic information, and so much more. This is an awesome resource to give you a more complete picture of who your prospects are and how to market to them.
Prospecting
1. Finding And Managing Your Prospects
Prospecting is a vital part of the pre-sale process. Scratch that. It's really what pre-sale is all about. Building your lead pipeline and locking in a solid base of memberships before your opening day. There are two key steps to prospecting:
Finding Prospects: Prospects are identified through prospecting channels. These channels are pathways by which prospects can discover and contact your club. Make it as easy as possible for prospects to find your club by establishing prospecting channels by web, over the phone, and in person.
Managing Prospect: Once a new prospect makes contact with your club, either by web, phone, or in person, their information should be quickly collected and stored. Prospects should be organized into follow-up schedules for regular reach outs to ensure the highest levels of membership conversions.
Prospecting by Web
Prospecting Channels: Create an online interest form that allows web prospects to request more information about your club. The interest form should capture the prospect's contact information, preferably both phone and email. Your online interest form should be active on your club website, your social media accounts, online ads (Google ads), and with any third-party marketing partners (Perkville, NetPulse, WindFarm, etc.)
Prospect Management: Integrate your CRM software with your club website, online ads, and third-party marketing partners to enable newly identified prospects to sync into your software automatically. Instead of manually tracking prospects on a spreadsheet or, let's be honest, piles of sticky notes, your web leads will be organized into your follow-up window, ready for the first reach out. Additionally, you can establish an automated welcome email, which is automatically sent to new web leads when they sync into your software to reduce response time.
Prospecting by Phone
Prospecting Channel: Even in the internet age, some people still prefer calling a business to learn more. Who can blame them? Talking to a real person can be quicker and more informative. Once you set up your club phone number, include it on your website, advertisements, and email marketing. If you're postponing purchasing a club number, you can temporarily use a Google Voice number. Google Voice numbers are free, and you can forward calls directly to your cell phone. Oh, and don't forget to set up a voicemail!
Prospect Management: When a prospect contacts your club by phone, enter their information directly into your CRM software with the lead entry form. Yes, you could jot down their information on paper, but you run the risk of losing the paper, forgetting to reenter the data later, or not asking the right questions. Once the lead entry form is submitted, the entered information will automatically be used to build a new prospect profile in the CRM.
Prospecting In-Person
Prospecting Channels: During pre-sale, establish set hours in which potential prospects can meet you in-person. This can either be in a pre-sale location like a nearby rental space or portal building in your club's parking lot, or within your actual club, depending if construction and renovations are largely finished. Further, your club should have a presence at community events like marathons, city block parties, or special holiday festivals where you and your staff can meet potential members face to face.
Prospect Management: Familiarize yourself with your CRM's digital guest waiver form. Typically, this is a lead entry form accessed through an iPad or other tablets. Each time you identify a new prospect in person, hand them the tablet with the waiver pulled up and have them fill out their information. The digital guest waiver automatically syncs prospect information into your club's CRM software. This ensures prospects are added to your followup schedule for future reach outs and avoids redundant data entry required with paper guest registries.
2. Pre-Sale Memberships
You've found your prospects. You've gotten them in the door. Kudos to you! Now what? When you break it down, you are offering a prospect a promise. A promise that in a few days, weeks, or even months, you will be open for business. What about the meantime? Why would a prospect sign up today, when they could just as easily wait until your club opens its doors? You have to convince them that signing early is in their best interest. How do you do this? Incentives.
Get In Early, Get Rewarded
The most effective tool in your pre-sale toolbox is promotional membership rates. Motivate signups by offering limited promotional rates to prospects who join early. Further, structure the membership discounts in tiers to add more incentive. Below are some examples:
• First 100 members: Waive the join fee, discounted monthly rate locked in for lifetime of membership.
• Second 100 members: Waive the join fee and discounted monthly rate locked in for first 12 months of membership.
• After first 200, all members who join before the club opens: Discounted monthly rate locked in for the first 12 months.
Tiered discounts motivate a prospect to not only join before the club opens but join now, so they can take advantage of the best rates.
Exclusive Swag
Who doesn't love free stuff? It's the very principle by which swag (stuff we all get) is built. Consider offering limited promotional swag to your pre-sale members like a tee shirt branded with "original member". We all know a friend that loves bragging about that band or TV show they knew before it was popular. Let your pre-sale members brag about joining early. Best of all? Every time they wear your shirt, they do the heavy lifting of promoting your club for you.
Building Brand Awareness
1. Building Relationships
Looking to cast a wider net for prospects? Partner up! Collaborating with like-minded businesses is an effective way to identify potential prospects who otherwise may not have discovered your club. Broadly speaking, there are two distinct types of partnerships: generalized and specialized.
Generalized Partnerships
Generalized partnerships are all about building brand awareness. Each new partnership means more eyes on your club, more prospects, and more potential members. Make a list of local restaurants, sporting good stores, retailers, auto shops, and any other business you would consider forming a partnership. Ensure you only choose businesses that will not damage your club's image by association.
Specialized Partnerships
If your club offers specialized services targeted to a specific demographic, e.g. age, income level, or gender, seek out partnerships with businesses that also serve this demographic. Using the information you gained from your buyer personas can help you identify businesses who make great partners. Don't be afraid to partner with other fitness centers as long as their services are not in direct competition with yours, e.g. a yoga studio partnering with an MMA gym. Their services complement each other but are not overlapping, and add to the overall wellness of shared members.
2. Sponsoring Events
Sponsoring community events is an awesome way to boost your brand awareness and demonstrate community engagement. You don't just want prospects to know about your business, you want them to advocate for your business. By sponsoring worthwhile events, prospects will see your club as an asset to the larger community.
What type of events should you sponsor? Again, that depends on your target demographics. You want to identify the events that attract your demographic. However, in a broader sense, anything health related is always a plus: marathons, fun runs, food festivals with a focus on nutrition. Be on the lookout for great sponsoring opportunities by keeping an eye on community event calendars hosted by websites or newspaper pages. When you sponsor an event, make the most of the opportunity using these tactics:
Give Something: Come armed with free swag to hand out to visitors to your booth or tent. This keeps your club's name in their mind longer. Best of all, every visitor who wears your club's hat, shirt, or sweatband becomes your free brand ambassador.
Get Social: Include a photo wall, banner, or eye-catching display that every potential prospect will love snapping a pic in front of it. Raffle a free membership to one winner selected from booth visitors who tagged your club in a social media post.
Go Interactive: Give your trainers an opportunity to shine with five-minute mini-classes. Conduct the classes at regular intervals like every hour or half hour. Don't have trainers? Set up a fun competition like a one-minute jump rope sprint or a pull-up challenge.
Grab Leads: Don't forget the reason you came: making connections and securing leads. Be sure to bring along a tablet with your CRM's new lead form bookmarked. Quickly enter contact information for each new prospect to seamlessly sync them into your prospect follow-up schedule.
Marketing Campaigns
The Importance of Email Marketing
Email marketing is a crucial component of your pre-sale strategy. A survey conducted in February and March of 2016 found "81% and 80% of [retail professionals], respectively, said email marketing drives customer acquisition and retention" (Marketer). Maintaining a strong line of communication with pre-sale members and prospects is the best defense against pre-sale fatigue, i.e. members and prospects losing interests in your club before your doors open. It's vitally important that you find opportunities to email blast membership and prospect lists. Pre-sale email campaigns should include two elements:
Progress Report: Never email just to email. Members and prospects are a fickle bunch. They won't hesitate to hit unsubscribe if they feel their time is wasted. Frame your email blast around a progress update like the arrival of equipment, new staff hires, the installation of club amenities, etc. The right progress update will build excitement and reassure recipients that your club is approaching an opening date.
Call To Action: The reason for the email is the progress update, but that doesn't mean you can't inject a little sales, too. Include a call to action in both your campaigns for members and for prospects.
• Member campaigns: encourage your membership to promote your club on social media as well as refer family and friends.
• Prospect campaigns: incentivize new members by promoting your special pre-sale membership rates. Stress that these rates are only eligible for members who join before the opening date and are the absolute lowest rates possible.
Conclusion
While the strategies listed above cannot offer a guarantee of success, they increase the likelihood your fitness center or studio will flourish. Pre-Sale is your club's launching pad. The work you do before opening day will pay dividends as your business grows.