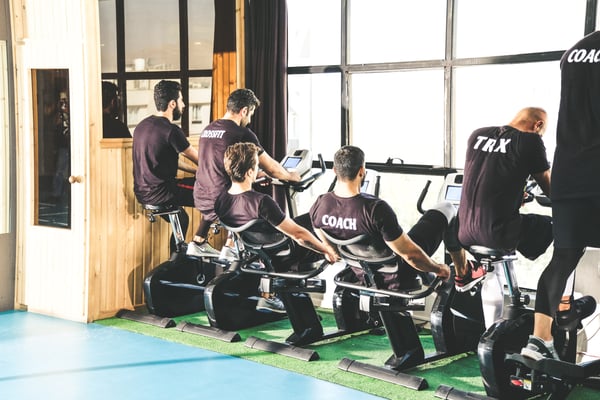 In a world full of countless fitness options, it's vital to make your business stand out from the crowd. New studios, gyms, and class formats seem to be popping up daily, and it's imperative to find ways to engage with both prospects and members alike to increase retention. Thinking outside the box to get your members excited about working out is crucial to making sure they feel special and to helping keep their fitness routines feel innovative and exciting. One outside-the-box way to invite interaction with your member base is by designing unique club challenges for them to participate in. Depending on your industry, challenges can be as simple as a weight-loss goal or as involved as achieving set levels of MEPs or caloric goals. Challenges are a great way to foster relationships with your existing members and build a little friendly competition around the club! They also make a great talking point with prospects and show potential members that you care about their wellness journey and want to encourage them to reach their goals.
Offering prizes at the end of a challenge is a great way to encourage participation, but often, your members will be happy with the idea of earning those much-deserved bragging rights. Leadership boards and daily updates are a fun way to keep track of members' progress throughout the course of a challenge, giving people a chance to feel like they're being recognized for their hard work. We've put together a list of some fun challenges that are easy to implement, but these are just the start: the possibilities are endless! Think of some viable solutions for the goals at your club, considering what your members ultimately want to achieve from time spent at your facility.
Check-In Challenge
A Check-in Challenge is a great way to encourage traffic to your gym by giving members an extra incentive to head to the club after a long day's work or right when their alarm clock goes off in the morning. Prizes can be given to the member with the most check-ins over a period of time, or make everyone feel like a winner by giving every member who checks in 20 times a new piece of club swag or a free smoothie.
Calories Burned Challenge
One of the biggest reasons millions of people go to the gym should be no surprise: to lose weight and burn off those pesky calories. Integrate your club's app or progress tracking system and put your members' journey back into their hands Alternatively, members can download a myriad of fitness apps to track caloric progress so everyone can feel included in the fun. This also gives you the opportunity to show members' progress with before/after photos or testimonials, which can serve as a great marketing tool for your gym down the road, even after the challenge is complete. Be sure to include a release agreement that will permit you to use those member photos in future marketing.
Group Fitness Challenge
If your club or studio offers group fitness or class options, this challenge is a great way to build participation and drive potential revenue to premium options. Throw a bingo card into the mix to drive more attendees to explore specific instructors, class times during the week that could use a boost in attendance, or different formats that you just launched on the schedule. This type of challenge also encourages members to try a new type of workout and see all the advantages that group fitness offers. Your members and instructors alike will be thrilled by the results of this challenge, and you just might help someone find their new favorite workout!