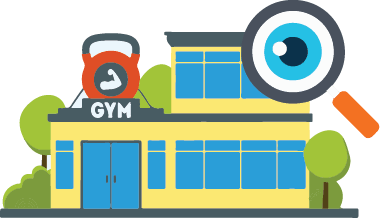 Noticing your prospect pipeline drying up? It could be because fresh prospects -- the prospects you badly need -- have no idea your business exists. You can't grow your fitness center without growing your fitness center's presence -- both online and offline -- first.
We're exploring best practices and approaches you can implement to boost your fitness center's visibility with a three-part blog series. If you haven't read part one yet, we highly recommend you check it out first! If you have, read on for another great list of visibility-boosting strategies:
1.) Foursquare and Swarm: If you've never heard of these two companies that's alright. They're technically the same company, but a few years ago Foursquare decided to break their app in two and created Swarm. However, if your business is on Foursquare then it's automatically on Swarm.
Foursquare/Swarm can be quite lucrative if used correctly. There isn't much of a difference in "find what you're looking for" functionality between these services and Google Maps or Yelp except for the fact that their demographic skews much younger. So, if your business has a lot of millennial clientele, you'll want to invest some time into Foursquare/Swarm. Here's a link on how to get started.
2.) Have a mobile-friendly website. In today's world it is simply a necessity. If a potential client or member can't easily search for a business like yours, find your awesome website, and then have an easy, informative experience - all from their phone - then they'll simply close the webpage and go back to the search results to find another business. Need to test your website to find out how mobile-friendly it is? Google can help.
3.) Additionally, every single email you send needs to be mobile-friendly. This is an absolute necessity. You may be saying "I know this," but have you actually tested what your emails look like within the most popular email services? You may be surprised.
4.) Geographic targeting in online ads can be incredibly useful and a great way to avoid wasting money on ads that won't be seen by the right people. With the right geo-targeted ad, you can spend way less money and achieve considerably higher returns. Using your current member or client data, do a search for zip codes and do your best to plot out where most of them live in relation to your location (cool rhyme!) and then transfer that knowledge to an appropriate online ad. Learn about Google's geographic ads. | Learn about Facebook's geographic ads.
5.) Direct mail isn't dead! We wrote an entire blog about it which you can read here. Direct mail doesn't have to be overwhelming and you never have to go to the post office. When done correctly, there's a chance you'll see an ROI beyond anything you do online.
6.) Apple Maps is growing. You need to ensure your business is on it. Check to make sure. We even wrote a blog about Apple Maps and how to do this.
7.) Define and use keywords: If you want to rank at the top of Google search results, you have to define what it is people are searching for that relates to your business and then you need to strategically use those words (known as "keywords") throughout your website. Sneaky SEO techniques no longer work. Google is all about organic content that's relevant to the person searching. So, if someone searches "gym with clean locker rooms" on Google, and you've specifically mentioned in various (relevant) places on your website that you have "clean locker rooms," there is a much higher chance of you showing up in Google search results before any of your competitors that don't mention their clean lockers. Learn how to find the keywords you should be using here.
8.) Re-marketing: You've spent time and probably some money getting people to your website, but just because they've arrived doesn't mean they're going to take the desired action. When this happens, you don't want the last interaction to be when they close their browser window. To prevent this, you can "follow them around the internet" with relevant, non-intrusive ads. It seems weird and a little creepy, but it can work. A service called AdRoll can help. Our suggestion is to start small and use re-marketing strategically. Not every page on your website needs to trigger a re-marketing cookie in the visitor's browser. However, if they land on your homepage and then navigate to your services or membership page they will be a much better candidate to receive re-marketing ads as they've shown an intent to buy. Re-marketing ads aren't annoying to the viewer if you target the correct audience.
9.) What better way to get in front of your local and ideal clients than with a local newspaper or magazine? Depending on who your ideal clients are, you could take out an ad in a local newspaper or a local health and fitness magazine should one exist. Either way, you're reaching people who live in your desired areas. A local weekly is a great idea as it has a large circulation, is free, and sits on newsstands much longer than standard newspapers.
10.) Partner locally. Look for businesses that align with yours, or are complements to what you offer. Juice bars, health food stores, etc. But don't neglect the places where people may be looking for inspiration or life changes!
Want more resources on boosting your online presence? Download our Search Engine Optimization E-book for free!