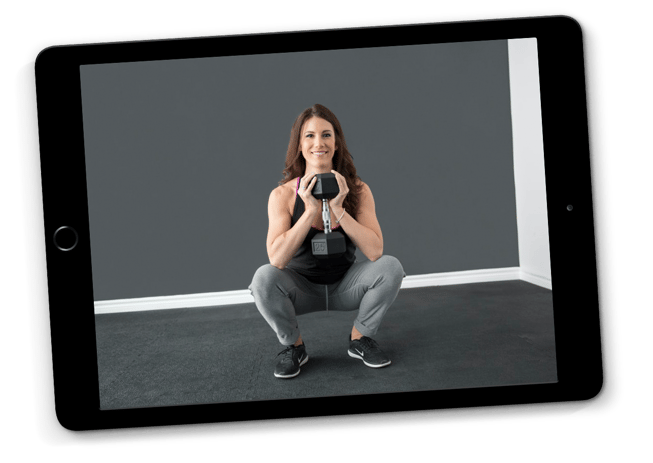 The spread of COVID-19 and the need for large-scale social distancing efforts have radically changed how countless businesses operate overnight. If your fitness club has temporarily shut its doors to help flatten the curve, then you've likely considered hosting virtual workouts to continue engaging and providing value to your members. This blog will review easy ways you can begin hosting virtual events with your members via a variety of online platforms.
Facebook Live
With 2.5 billion users worldwide, Facebook is the largest social media platform. Its popularity makes it an obvious choice for hosting virtual events with your members. If you've never used the Facebook Live functionality before, it's a simple process.
1.) First, if you want your virtual workout events to be exclusive to your current members, create a virtual workouts Facebook group and invite as many of your members who use Facebook as possible to join the group.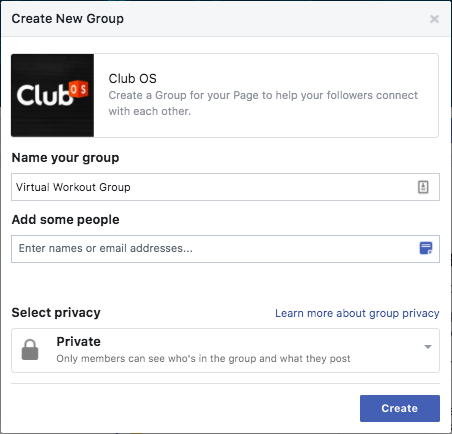 2.) Next, click the "Live" button featured in the "Create" toolbar on your club's page.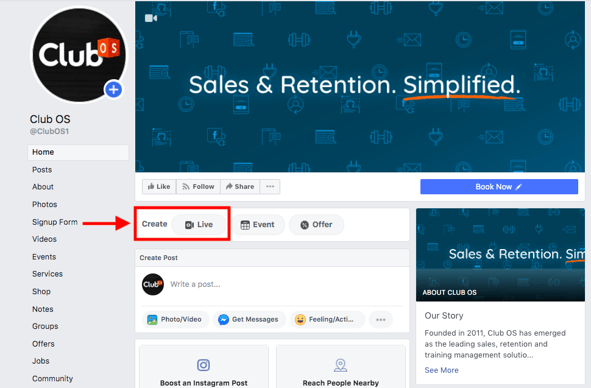 3.) You'll be taken to the new Live Producer page on Facebook. This version is a little more complex, allowing you to connect your live steam to third-party software for higher quality broadcasts, like live streaming through multiple cameras. If you're interested in a more professional setup, you can learn about this page here: Live Streaming Pros. If you want a more simplified version, then click the "Switch to Previous Version" link in the top left corner.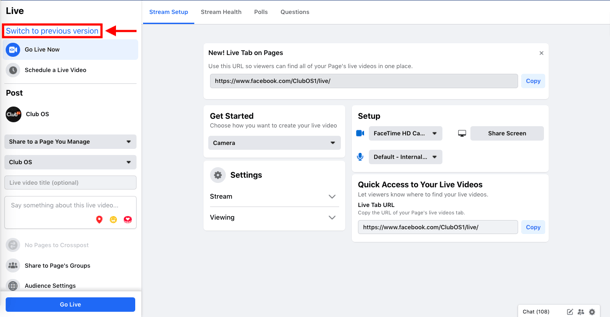 4.) You'll be redirected to the early version of Facebook Live and you'll need to give Facebook permission to access your camera.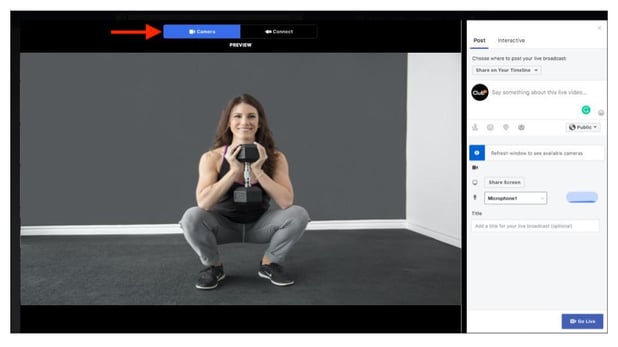 5.) Next select the "Share to Your Timeline" drop-down menu and choose "Share to a Group", then select your newly created "Virtual Workouts" group.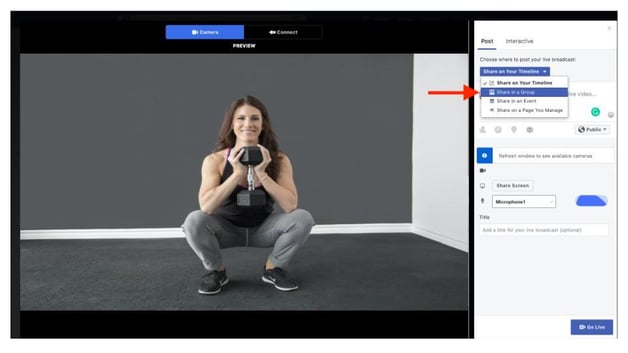 6.) Write up a quick description of your video and give it a title, then click "Go Live" in the bottom right corner to begin your broadcast.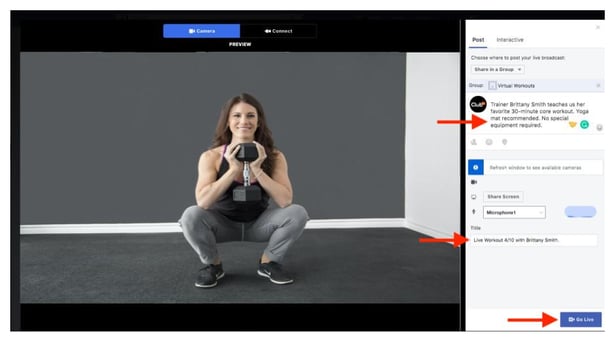 YouTube
Likely your fitness club already has a YouTube channel for hosting video content you and your team create. With over 2 billion users worldwide, it's a perfect platform for hosting virtual workouts. Here are four easy steps to begin live streaming on YouTube.
1.) On your YouTube channel's homepage, click on the "Create a video and more" camera icon in the top right corner. Then select "Go Live" from the drop-down menu.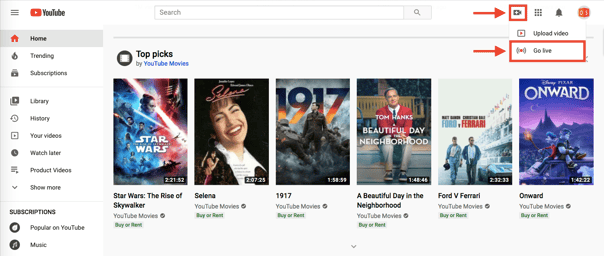 2.) You will be redirected to YouTube's live streaming studio and will be asked to allow YouTube access to your computer's camera and microphone.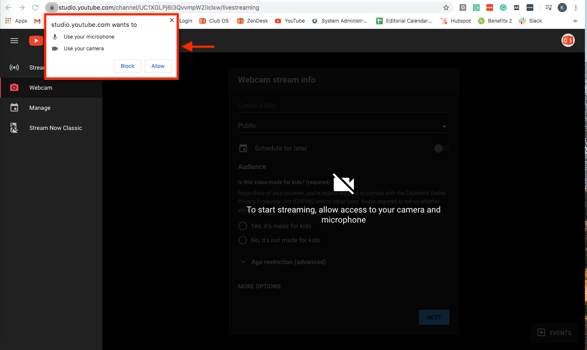 3.) Next, give your live stream a title, set its privacy setting, and certify whether the video is meant for children or not.
Note: You can also schedule live streams for a later time in this menu.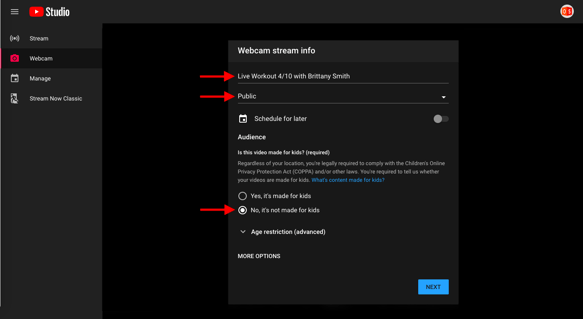 4.) Take a quick picture for the live stream's thumbnail then select "Go Live" when you're ready to start your broadcast.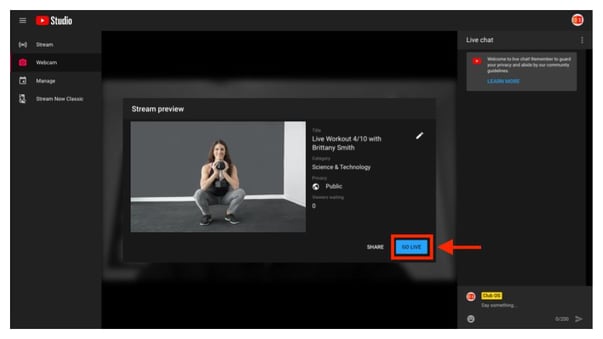 ZOOM
Zoom is increasingly becoming one of the most popular video meeting services and can be an easy go-to for hosting virtual events with your members. Advantages of Zoom include inviting members to attend your event directly through email and engaging your members through a platform built for virtual interactions.
1.) On your Zoom homepage, select to schedule your Zoom meeting.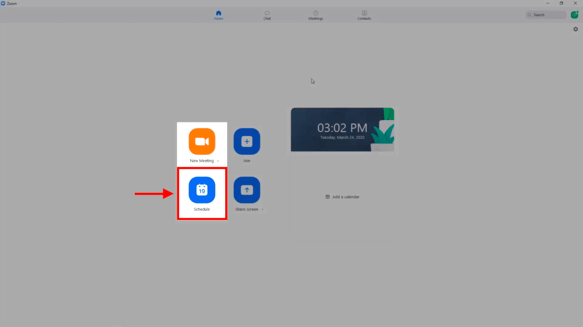 2.) Then give it a title, select the event date, and set the duration of the meeting.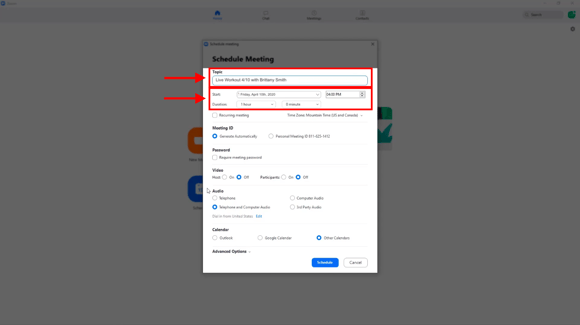 3.) Then customize your event as needed. This could be adding a password to access the meeting or disabling your participants' cameras. Finally, click schedule and you're all set.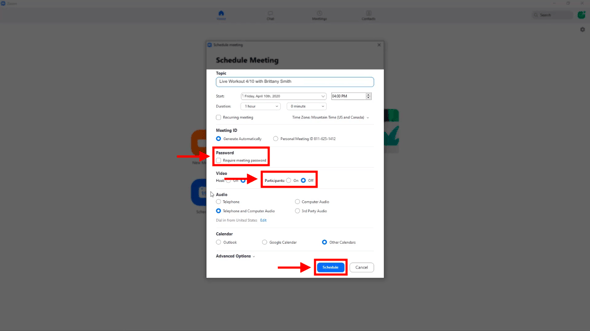 Keep your members informed on when your virtual workouts will be hosted. Download the Text Marketing E-Book for tips on sending text messages to your members and prospects.