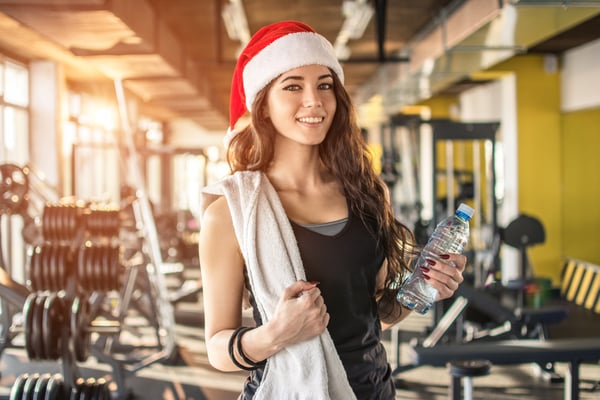 The time of year has arrived when you can count down the months until January on one hand. For the general public, that doesn't mean much more than hustling to get your holiday shopping done and prepping for family gatherings. For those who work in the fitness industry, however, it also means bracing yourself for the tidal wave of New Year's resolutioners on the horizon.
Considering that getting more exercise has historically been the most popular goal for resolutioners, the New Year comes with a lot of opportunity for gym owners to boost their memberships and set themselves up for a more profitable year. If you want your club to stand out among the droves of others vying for prospects, then you'll need to give your marketing a holiday bump — starting now.

The Importance of Marketing Your Gym During the Holidays
January is a double-edged sword for gyms and fitness clubs; it brings an influx of new members and revenue, but also an increase in workload and stress. If you can redistribute some of the workload across the months preceding the New Year's resolution rush, then your team will be in a better place to capitalize on every new membership opportunity come January.
Going full speed with your marketing efforts during the holiday season will help to increase brand awareness for those who will begin searching for a gym in January, which is important in the sea of competition you're facing. With the right campaigns (more on that below), you can also convince some of those resolutioners to sign up now and secure their commitment before the chaos begins. Acquiring members now will not only take some pressure off you, but also your current members, who are likely to get annoyed with newbies crowding their space.
In fact, holiday marketing campaigns are just as beneficial for engaging and retaining your current members as they are for attracting new ones. The winter months are typically slower for gyms, as people are focused on holiday shopping, event preparation, and socializing. They're also more reluctant to venture out into frosty temperatures and snowy conditions just to get in a workout. Engagement during this busy time is integral to your retention rates.

5 Fitness Holiday Marketing Campaign Ideas to Get You Started
1. Offer holiday discounts.
Festive promos that play on the spirit of the season will serve a double duty of grabbing the attention of new prospects and engaging current members. Play up the holiday theme with fun slogans, language, and images. Look at it as giving your audience the "gift" of a deal worth celebrating. Here are a few sale ideas:
Free membership through January

Bring a friend for free passes or days

X% off a personal training package

Buy X classes, get X more free

X% off retail merch

Buy a gift card for $X, get one worth $X for free
2. Run a holiday challenge.
Competition is a great motivator. Organize a holiday challenge in November and/or December to get members back into their fitness routine and offer an opportunity for New Year's resolutioners to jump-start their progress (and their gym sign-up).
Leverage social media to get people involved, attract results, and boost that brand awareness along the way. For a little extra motivation, add a prize for the winner or top couple performers. Here are a few 30-day challenge ideas you can use to light a fire under prospects and members this year.
3. Reengage idle and inactive members.
Over the last year, 6.1 million Americans spent $397 million on unused gym memberships — that's a lot of untapped potential for refreshed leads and upselling. Make it a point to get these idle and inactive members back in the door. Freebies are always a reliable tactic, such as a free fitness assessment, PT session, or group class, or just a straightforward discount will work too.
Use the holidays and upcoming New Year's resolution mindset to persuade them that now is the time to recommit to their fitness goals. To simplify your communications with this audience, try an automated email or SMS campaign.
4. Cross-promote with another business.
Think about what other services and products your prospects and members are looking for. Nutrition guidance, wellness services like massage or chiropractor, and athleisure are a few examples. Reach out to local businesses that provide these services and products about partnering up to offer bundled deals and discounts for both your customer bases.
Bundling your club membership or other services with another business's offerings has a greater appeal for a new, expanded audience. The customers of an industry-adjacent business are likely to turn into strong leads and conversions since you know they have relevant needs and interests. Instead of partnering with another business, you could also try teaming up with a fitness influencer who will promote your brand to their audience.
5. Do an SMS campaign.
Mobile open rates, as of research published by Vibes in 2021, hover around a mind-blowing 98%. With exposure like that, you would be remiss to sleep on text message marketing leading up to your busiest time of year.
Texting makes things easy for everyone: it's easy for your club to automate communications and keep prospects and members updated and engaged, and it's easy for your audience to quickly access and read your messages. Entice people to sign up for your texts by offering special promotions for subscribing and exclusive discounts to your SMS audience.

Tips to Make Your Gym Stand Out Among the Holiday Marketing Noise
Again, one of the biggest hurdles you'll have to jump to increase gym memberships during and after the holidays is standing out among the plentiful competition. Here are a few tips to help you do that:
Personalize campaigns and offers to member needs and goals.

Choose a communication style and voice that reflects your business's personality.

Make unique branding choices to set yourself apart.

Emphasize your brand values to make a deeper connection with prospects.

Stay up to date and make use of the latest fitness trends.

Head to your target audience's favorite social media platforms to engage.

The Ultimate Customer Experience: Your Key to Attracting and Retaining New Gym Members Year-Round
Despite your best marketing efforts, you'll never be able to hold onto new members if they don't find value in what you have to offer them. Download our free e-book now to learn how your club can deliver the ultimate member experience and set the stage for exponential growth.