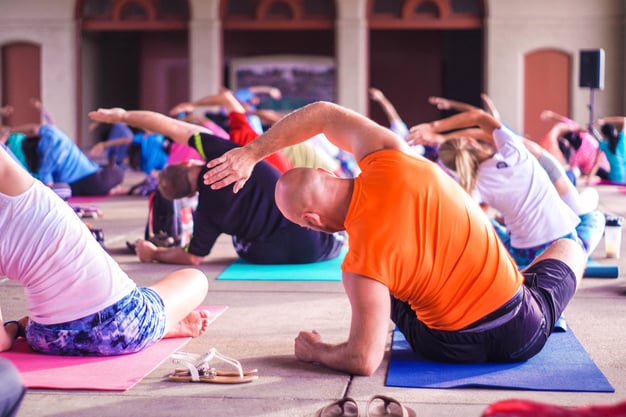 Summer is almost here. Now is the time to put into place strategies to fight the summer slump in attendance. Group fitness classes are one of the best tools any fitness center or studio has to keep members engaged. They give members a community, accountability, and a whole lot of fun. Amplify the appeal of your existing group fitness classes in these five ways to keep your rosters full and your business thriving.
1.) Introduce Themed Classes
The fitness industry has a habit of taking itself very seriously. It's understandable, health and wellness are a serious part of our lives. However, group workouts are about more than pushing your limits. They're an opportunity to engage with your community and have a good time!
Make your classes even more fun with special themed classes. Themes can center around upcoming holidays, like Fourth of July classes that encourage members to dress in their best stars and stripes gear, or downright silly, like pajama party classes with members sweating it out in their favorite PJs. Create a selfie station to give members a reason to show off their creative outfits and promote your business.
2.) Stoke Friendly Competition
Call it human nature. Call it the desire for a challenge. People like a little competition. It drives them to keep going when things get tough. Introducing leaderboards that track top performers in each class can give members that extra push to show up and give it their all. A recent study tracked the attendance rates of 790 grad students from the University of Pennsylvania during an 11-week exercise class. The students were divided into competition-based groups and social support groups. The study found "attendance rates were 90% higher in the competition-motivated group" (Medical News Today).
3.) Curate Specialty Playlists
Music isn't an absolute necessity for fitness classes but let's be honest, it makes them a whole lot more fun and energetic. Offering special classes with a themed curated playlist can add an exciting new element to your established classes. Possible playlist themes: Queens of Pop, 90s Hip Hop, Best of Beyonce, Battle of the Boy Bands, Songs of the Summer, or Katy Perry vs. Taylor Swift. Whatever themed playlists you choose to create, make sure they're fun, exciting, and have broad appeal.
4.) Promote Your Trainers
Your trainers are your not-so-secret weapon. Great trainers engage and retain members. Make sure your absentee members know what they're missing. Spotlight your trainers, especially any new or visiting instructors, with email and text campaigns. Write a brief bio of the trainer's interests, hobbies, fitness mission, and relevant experience. Don't forget to include a class schedule so interested members can catch their next class.
5.) Assign Weekly Fitness Topics
Dedicate an entire week to focusing on one fitness area like tightening your core, enhancing flexibility, or highlighting the importance of mediation to wellness. Schedule classes that feature both the most common/popular fitness routines involving that week's fitness topic but also explore new techniques. Invite special guest instructors who specialize in that week's subject to teach classes. Not only will it generate interest amongst your members, but it will boost your fitness center or studio's collective knowledge of that fitness topic.
Want more tips on keeping your fitness business full all summer? Download our Summer Slump E-book!