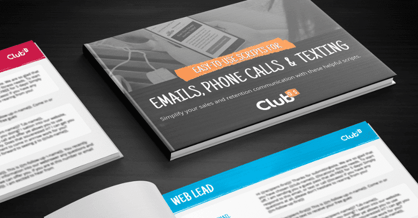 Gym and fitness businesses have sales people all over the world emailing, calling, and texting prospects and members every single day. Whether it's a single salesperson or a team of 100, the process is generally the same. The fitness industry sales process is unique because the decision people are making to join a gym or drop in for a class is often tied to emotions, thus leading to a higher need for communication in general. They want to feel comfortable and assured that your business is the right fit for them.
While sales scripts sometimes get a bad rap for being too "corporate" or "not personal", they often are what people expect and desire. The right scripts can be easily personalized so that you communicate in a manner in which your clients and prospects appreciate and understand.
However, the hardest part can be simply knowing where to start. What should you say to get someone to come back for a missed orientation session? What should you say to a current client that you know would benefit from a new class? To help answer those questions, and make the process as easy as possible, we have put together a downloadable resource at the end of this blog of tried and true scripts that you and your team can begin using immediately!
Benefits of using pre-defined sales scripts:
Easily Onboard New Staff Members
One of the most beneficial aspects of scripts is reduced time in training or managing employees. The second someone starts working at your studio or gym, they already have scripts in place for them to use, meaning less time you spend training, and more time they spend selling. Not only will it making training faster, but more efficient as the right message is reaching the right people.
Increased and Assured Relevance
Nearly every script should have some sort of dynamic tag in it to ensure that it has a personal feel. When using a software that allows for dynamic tags, they will often look something like this , and when you send an email, it automatically fills in the information of the recipient. Being relevant to your prospects or members is key for them to stay engaged with your message. For example, when addressing someone in an email, "How are you, Cathy?" sounds a lot more personal than simply "How are you?" Although this may seem small, it makes a big difference in the way the message is read. Using a system like Club OS can help make scripting and follow-ups even easier!
Consistency In Tone and Message
At a high level, scripts may seem like a small part of your studio or gym, but when they are used everyday to create lasting impressions on prospects and members, they begin to give your business its personality. Because this is so important, having a consistent message across the board is absolutely necessary. Building your brand is a long and detailed process, and scripts are at the top of the list. Your company's phone call, email, and texting style really shapes how the public perceives your studio or gym.
If you aren't using scripts, how do you know that each employee is representing your business consistently and correctly?
The good news is Club OS has done the hard part for you. We've created a downloadable handbook with phone call, email, and text scripts specifically for the fitness industry. Simply click to download the handbook below and copy it into your sales software like Club OS, or you can even use it on the fly whenever you need to contact a prospect or member. Happy selling!