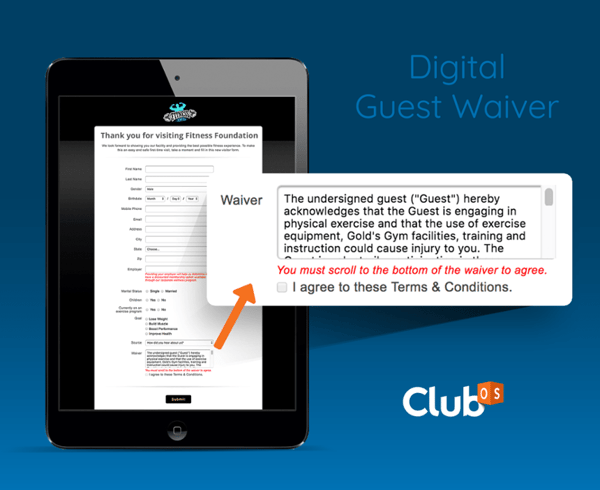 Technology doesn't fix everything, sometimes it can even make things more complicated. But, in the case of collecting data and storing it, technology takes the cake (or protein powder for you gym junkies).
For example, when someone comes into your gym or studio, are you having them fill out a form on a sheet of paper? If so, you have probably dealt with the headache that is lost information, bad handwriting, or a disorganized filing system. Then it comes to having to enter the data manually which leaves room for error and uses up valuable time. Instead of continuing to deal with paper forms, put a form on an iPad or a laptop and use that as your guest waiver. This will not only eliminate the issues mentioned above, but it also allows you to transfer information to a sales system with ease.
Benefits of Using a Digital Guest Waiver:
Accuracy
When using paper waivers, you run the risk of handwriting that isn't legible, not enough space for the full length of an email or a physical address, and typos that are hard to fix. If you are using an iPad or laptop, everything is easy to insert and quick to change. There aren't any limits on length (unless you want there to be), and everything is always easy to read and transfer. If you have a prospect come through your door, you want to make sure that they are turned into a member. Don't let bad handwriting or typos get in the way of you making your sale.
Security and Organization
When a prospect is filling out any information in your gym or studio, you want them to know their information is not only secure, but it is easily accessible if they need to make changes or look up any signed or filled out documents. When you use a software that allows you to take that information and place it directly into the prospect or members account, you reduce the risk of misplacing it, and it is secure within the system. If a prospect or member needs to update an address or add on a package, it's as simple as finding their account and editing it right there. Although organization may seem like a small part of your entire gym or studio's workflow, it makes running your day-to-day much easier.
Simplicity
When you think about the prospects journey through your gym, how do you want their first impression to look? Generally, you want the front-desk employee to transition them to a member of the sales team, and from there they gather their information and learn more about their goals, wants, and needs. Having an iPad ready to go with a well presented presentation and an easy to fill out guest waiver simplifies the process and adds to the ease of purchasing a membership. Add in some questions on the waiver asking about interests, and you have a great baseline for your tour. Once they hit submit, all of their information is stored securely and you can focus on selling the actual membership.