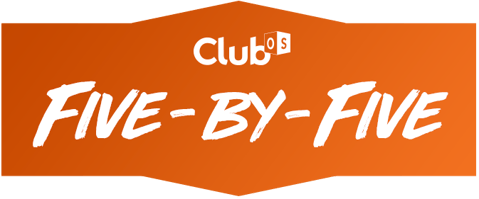 Here at Club OS, we've put together a team of exceptional individuals. They better our business through professional excellence, they enrich our company culture through diverse backgrounds, and best of all, they make jokes -- mostly bad, but we love that. Every so often, we'll be sitting down with team members for what we're calling "Club OS Five-by-Fives." The premise is simple: Five questions about the awesome work they do at Club OS and five questions about their lives outside of work, which we assume are just as awesome.
This week, we sat down with Helpdesk team member, Will Franey.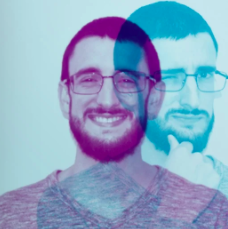 AT WORK
1.) What are your day-to-day responsibilities?
My daily responsibilities include working to support customer needs via phone and email interaction as well as working to create new materials/guides to help educate customers and ensure that our Help Center articles remain up-to-date. I also typically assist with onboarding new hires for the Club OS Helpdesk team.
2.) When a client reaches out to the Helpdesk team, what information do you recommend they included in their email or that they have ready to provide over the phone to make the process as smooth as possible?
Their full name and club location name as well as the overall 'franchise' they are reaching out from, such as Gold's Gym, Anytime Fitness, etc. Additionally, a detailed summary of the issue they're experiencing is always helpful. For instance, if they are having an issue locating a member's account, the exact name of the member will allow us to begin looking into the issue immediately -- as opposed to having to request that information.
3.) Obviously, clients have a wide variety of support needs. What types of questions do you recommend they contact the Helpdesk team to resolve? Are there questions that are more easily answered through alternative resources?
If you're ever in doubt, call or email us first. I'd rather assist you with your questions/concerns now instead of later, when it might become more difficult to address. With that being said, I am a big fan of our Help Center, where I encourage customers to look for answers to questions. We've been working for years to create a library of information and are constantly working to add new articles and/or improve the ones we already have.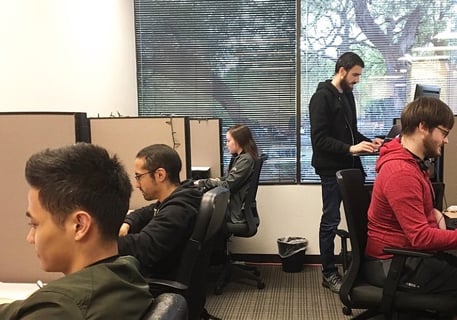 (Helpdesk team members from left to right: Chris Choi, Ray Cardenas, Megan Oswald, Will Franey, and Jeff Williams.)
4.) You have previous experience in the fitness industry. What was your position(s) and how does this experience help you with Club OS clients?
I worked as an assistant strength and conditioning coach for California University of PA. After graduation, I went on to do personal training (and PT sales) at LA Fitness, which eventually led into me working at Club OS. During college (and for a bit after) I also worked at GNC, which provided a great deal of additional insight into nutrition/supplements. I've also had a number of private PT clients over the years.

Through these many, varied experiences within the industry, I've gained a ground-level understanding of the fitness industry -- from marketing and sales to supplements and training. I'd go so far as to say that I have cultivated a respectable knowledge base which I believe firmly applies to my current work, and allows me to work confidently with both large corporate gyms as well as small studio environments.
5.) What's one of the most common questions the Helpdesk team is asked?
Probably how to delete an employee account as a result of staff turnover. There's more to it than just deleting an account. It's an entire workflow you need to follow to make sure everything is done properly. You have to transfer their follow-ups, update your location defaults, reassign any calendar events they had scheduled, etc. There's a really great support article called, "How do you delete an employee account?" that walks through each step.
AFTER WORK
1.) Outside of work, do you have any hidden talents or hobbies you're passionate about?
I really enjoy hiking and camping, which my girlfriend, Ti, and I do often. I also enjoy working out (weight training, yoga, etc). I really like traveling to and exploring new places that I haven't been before. I'd like to think I'm a pretty decent cook and am always attempting to create new things or improve my 'go-to' culinary creations -- you've gotta try my chili! As for non-productive activities, I love watching movies (even bad ones) as well as playing video games and tabletop games (board games, Magic, etc).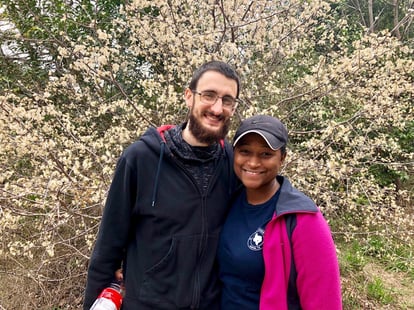 (Will and Ti hiking Twin Falls nature trail)
2.) Through the NSCA, you're a Certified Strength and Conditioning Specialist. What's the process to earn this certification?
You had to have a four-year college degree then apply to take the test (typically at a college in the area). You get one try, and if you fail you must pay the fee again, which is quite expensive, as well as wait many months for the next testing session. The test itself takes hours and is held in a tightly-controlled environment.
3.) Our offices are located in Austin, TX, but you're originally from Pittsburgh, PA. What's one thing you love about Austin and one thing you miss about Pittsburgh?
One thing that I love about Austin, the weather! This place is absolutely amazing. Hot and dry works for me, and quite frankly, I never felt truly acclimated to the more intense northeast winters.
One thing that I miss about Pittsburgh, other than the obvious choice of friends and family, is Sheetz. If you're not from the area, Sheetz is a chain of gas stations that are 24 hours, their gas prices are competitive, their ATMs have no service fees, and they offer great made-to-order food. You don't even have to talk anyone. You walk in, type your order into a touchscreen, and wait for your number to be called. I've gone quite literally hundreds of times and never once had my order messed up. They'll make anything you want, no questions asked. It's the greatest.
4.) You're one of the taller people in the office at 6'2. If you had to be either 9 inches taller or 9 inches shorter, which would you choose?
Despite some of the challenges of being taller, I must admit that I've become accustomed to my height and wouldn't know what to do if I lost nearly a foot. 6'11" it is!
5.) Your apartment building is on fire. You're safely outside, but you run back in to grab what possession?
I probably wouldn't run back into any building that is actively burning down, excluding to save a loved one. Assuming my safety was 100 percent assured, probably some of the little mementos and art/pictures that my girlfriend and I have gathered from our travels. The way I see it, most regular possessions can be replaced.