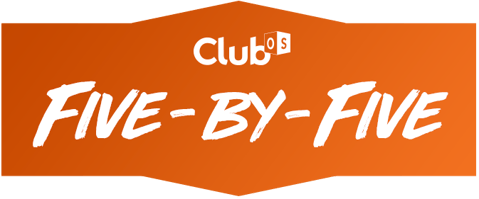 Here at Club OS, we've put together a team of exceptional individuals. They advance our business through professional excellence, they enrich our company culture through diverse backgrounds, and best of all, they make jokes -- mostly bad, but we love that. Every so often, we'll be sitting down with team members for what we're calling "Club OS Five-by-Fives." The premise is simple: Five questions about the awesome work they do at Club OS and five questions about their lives outside of work, which we assume are just as awesome.
This week, we interviewed Account Executive, Sean McLaughlin.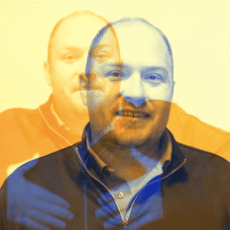 At Work
1.) What are your day-to-day duties?
My day to day duties here at Club OS are really to be on the front lines with any non-customer. Whether that is someone seeking us out or me proactively reaching out to them, my job is to educate gym and studios owners about our software and the benefits of using it. On a more specific level, my days are mostly filled with product demos, following up with people post-product-demo, or negotiating the ideal solution for their needs.
2.) What previous education or work experience do you have that helps you find success as an account executive?
My business degree and previous sales experience definitely provide a very tangible and hard skill set that I use to succeed as an Account Executive, but the reality is that the intangible soft skills are how people really thrive in this role. The ability to relate to a diverse group of people with a genuine empathy for their situation and interest in their goals is key.
3.) You've been with Club OS just shy of three years. How have you seen the company strengthen its partnerships within the fitness industry and improve the software to better meet customer needs?
There are so many ebbs and flows in any industry, so I think one of the things Club OS has done so well in navigating the ever-changing fitness market is not only being customer and product-focused but also always placing an emphasis on the partnerships in this relatively niche space. We sell into a tech ecosystem, so for our customers to really thrive using our platform, we have to have a strong sense of the bigger picture. Doing all of this while also being an innovator has been a big piece of our success.
4.) How do you determine if Club OS is a good fit for a potential client?
I truly believe that any fitness business can benefit from using Club OS. We are not just a product, but a technology that enables our customers to use our platform within their existing framework. With that being said, there are definitely groups or businesses that would be a better fit for Club OS, and we want to work with them so we can actively increase their business health or improve their current sales and marketing processes.
5.) What do you cover in a demo of the software, and how can someone request one with you?
Every demo is different and that is because it is designed to tell you everything you can't find on our website. I will obviously dig into specific features that we offer, but the true goal is to showcase HOW those features would positively impact the potential client's business. I am easy to get ahold of! You can always download some of the great content that our team is always putting out to inform the market from the Club OS Resources page. That will get you not only exclusive content but will put you in direct contact with someone on our sales team. But if you're interested in learning more now, you can click the link below.
After Work
1.) Outside of work, what hobbies or activities do you pursue?
Without a doubt the biggest hobby in my life is my love of sports. It sounds very cliche, but there is only a handful of days a year that there is not a sport I am passionate about airing something on TV. In addition to that meathead answer is my love of cooking. I try to cook every night if I can, and I prefer to do it without recipes. The beauty of this is I can make some awesome things out of nowhere but unfortunately, my stubbornness on recipes also makes meals difficult to replicate!
2.) You and your wife had twins last year -- congratulations again! What's the biggest challenge of starting with two babies instead of one as first-time parents? What's most rewarding?
There are only so many hands! Even when you know what they want, you can't always appease them (especially when it is solo daddy daycare). Also if you are doing something wrong parenting wise the effect is double. In the same vein though, the rewards are double and then some. There is an overwhelming amount of love, and it is so amazing watching all of the relationships develop. My wife and I with them individually, together, and most importantly between the two of them.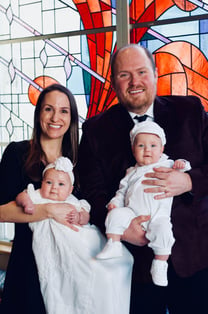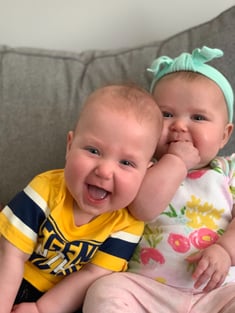 (Sean, his wife Jess, and twins Landon and Colette.)
3.) Your hometown is Rochester, NY. What's special about New York State that people may never discover if they only visit New York City?
Rochester, NY, and really Western/Upstate New York as a whole is the greatest place on earth. You can get anywhere in 20 minutes, people are overly friendly, there is a great sense of community wherever you are, and it's an overall gorgeous place.
4.) As of the writing of this blog, many people are practicing social distancing as a precautionary measure due to the coronavirus. What's something you consider an "essential" for staying home that other people may not prioritize?

Access to the DIY channel on cable.
5.) As a lifelong sports fan, there are many, many New York State teams for you to support. It's time to choose:
NFL: Bills!!
MLB: Mets!!
NBA: Knicks!!
NHL: Sabres!!
College: Syracuse basketball and football!!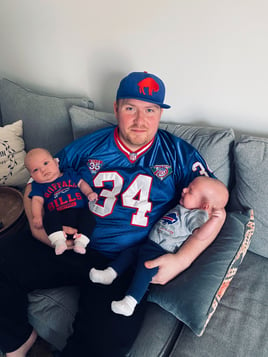 (Sean, Landon, and Colette ready for game day.)
6.) Bonus Question: Rochester is on the south shore of Lake Ontario, so answer the question on everyone's mind: Why is Ontario the greatest lake of the great lakes?
Ontario is the greatest of the great lakes because it is actually the smallest. To be considered GREAT and significantly smaller than your peers is a tremendous feat. Additionally, on a clear day you can see Toronto from the shores!