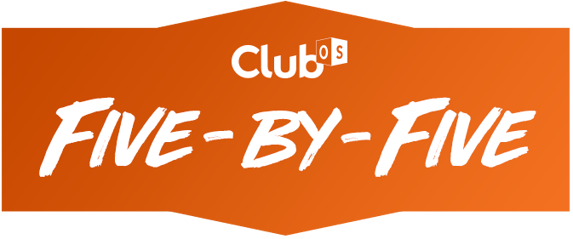 Here at Club OS, we've put together a team of exceptional individuals. They better our business through professional excellence, they enrich our company culture through diverse backgrounds, and best of all, they make jokes -- mostly bad, but we love that. Every so often, we'll be sitting down with team members for what we're calling "Club OS Five-by-Fives." The premise is simple: Five questions about the awesome work they do at Club OS and five questions about their lives outside of work, which we assume are just as awesome.
This week, we chatted with Director of Project Management, Sarah Hill.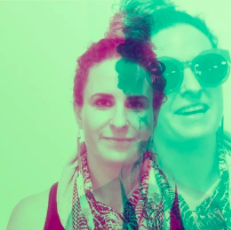 At Work
1.) How long have you been with Club OS, and what are your day-to-day responsibilities?
I've been at Club OS for about two-and-a-half years. Every day I work to help our development teams build new features for the system. I organize work for the teams then monitor the actual development work as well as answer questions as they come up. Finally, I make sure that new features go through our quality assurance process.
2.) How does your team identify updates or new features to prioritize for development?
The Product team is responsible for identifying the most valuable features to build from the many, many great ideas we get from customers, market research, and our own employees. To assist this decision process, the Development team and I weigh in on the relative complexity level of new ideas, how to build them in the most time-effective manner, and options for implementing them successfully.
3.) What skill set or training in your background led you to project management at a tech company?
I came into this role mainly because I'm detail oriented and curious about technology, but I don't have a formal technical background. I studied English in college then worked my way into the software space through experience. I find that if you show enthusiasm for learning, technical folks are more than happy to share what they know!
4.) What is the typical process for developing a new Club OS feature from start to finish?
We start with a lot of research, including talking to customers, then create design mock-ups. Once we've solidified what we want the feature to be, we figure out how to actually build it -- keeping in mind that we need to find a good balance between building things well but also quickly. After we perform quality assurance, we usually test out the new feature with a small group of pilot customers to get some early feedback before releasing it to everyone.
5.) Is there a process in place for Club OS clients to request new feature development?
Yes! We get ideas and requests from customers through their contact with our Helpdesk and Implementation teams as well as through customer interviews that we conduct. Customers can also give us feedback directly via the Community section of our knowledge base. As with any company, we get more great ideas than we can possibly execute on, but we do consider them all.
After Work
1.) Outside of work, do you have any hidden talents or hobbies you're passionate about?
I care a lot about animals and animal rescue. Usually every weekend, I volunteer at my local no-kill shelter caring for the cats there. Kitten season is starting up so there are lots of cute kittens around, but my real soft spot is for older cats.
2.) If you could live with all expenses paid for one year in any city in the world which would it be and why?
London was one of the first international trips I took, and it kind of imprinted on me, so I would love to live there for a year. With all expenses paid, I could live in Knightsbridge, a crazy posh area of the city, and stroll through Hyde Park every day.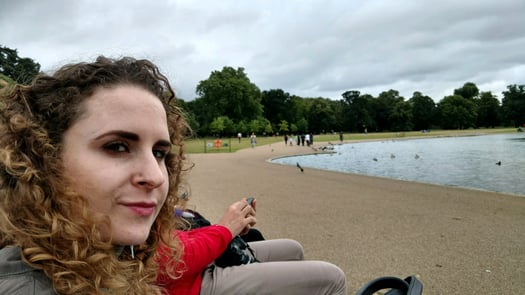 (Sarah visiting Hyde Park in London)
3.) You work in the Club OS Philadelphia office, but you're originally from San Francisco. What's one thing you love about Philly and one thing you miss about San Francisco?
I love old cities, so I'm a big fan of the historic buildings in Philadelphia as well as all the giant, old trees that have been around for a century. However, I do miss the fog and crazy steep hills in San Francisco.
4.) If you could add yourself as a character into any TV show, reality and animated included, which show would it be?
There is a reality show on Netflix called "Hyori's Bed & Breakfast" that I find really interesting. It's ostensibly about an older K-pop star who lives on a scenic island with her husband and motley crew of rescue cats and dogs, and she opens up her house as a bed and breakfast and random guests stay there. But it turns into a reflection on aging, in part, as Hyori compares herself to the younger guests, reflects on her years as a young adult, and contemplates how things are different for her now. As one of the oldest people at Club OS (but still under 40!), I'm starting to think more about aging, too. I would love to be a guest at her B&B and hang out with her and her funny animals.
5.) When you send out company-wide release updates, you're known to include memes of opossums. Your average person is most likely afraid or indifferent to 'possums'. Where does your affinity for them come from?
I feel a lot of empathy for opossums. They have all the same basic features as cats or rabbits, but their design is just off in a few ways that make most people think they aren't cute. They seem to know it, too. They're like, "It's ok guys, we'll just slowly crawl around at night while y'all are asleep and eat some bugs and trash." But personally, I think they are super cute with their small, flappy ears and funny expressions. Just google "baby opossums eating" and I think you'll be convinced!
Bonus! What new feature are you most excited about coming to Club OS in 2018?
I'm excited about bulk texting! I know it will be a huge benefit to our customers once it's out, and it's going to be fun and interesting to build.