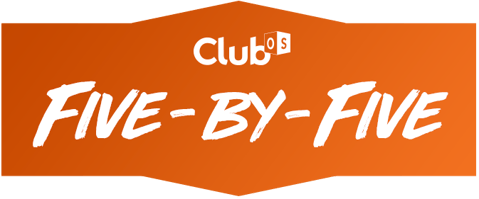 Here at Club OS, we've put together a team of exceptional individuals. They advance our business through professional excellence, they enrich our company culture through diverse backgrounds, and best of all, they make jokes -- mostly bad, but we love that. Every so often, we'll be sitting down with team members for what we're calling "Club OS Five-by-Fives." The premise is simple: Five questions about the awesome work they do at Club OS and five questions about their lives outside of work, which we assume are just as awesome.
This week, we interviewed Senior Implementation Associate, Mary Kate Hoffman.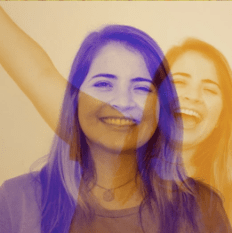 At Work
1.) How long have you been with Club OS, and what are your day-to-day duties?
I've been with Club OS for a little over 2 years now! As a member of the Implementation Team, I build out new clubs and locations and then work with our clients to teach them how to successfully utilize Club OS. I conduct one-on-one training calls, host weekly webinars, and set up the new club's back end settings in the software to make sure our clients are ready to roll with Club OS.
2.) What previous education or work experience do you have that helps you find success on the Implementation team?
In the past, I've worked in a number of team and customer service environments, all of which allowed me to develop my communication skills, become better at time management, and improve my ability to problem solve. Just knowing how to effectively communicate and problem solve are skills that have helped me tackle my responsibilities here at Club OS.
3.) What should a new Club OS customer expect from the onboarding process?
Our clients can expect a thorough breakdown of the system and its features, and a point person to go to with all questions and concerns. For those first several weeks that they are on the software, they can know that they'll receive excellent training and be given the resources they'll need to thrive on the system.
4.) How do your personal fitness habits help you connect with the fitness professionals you work with during onboarding?
I've been consistently going to the gym for the past few years, and I feel it has definitely given me an advantage when it comes to connecting with my clients. I'm able to understand the atmosphere they're working in as well as the experience they're trying to give their prospects and members. I also recently joined Camp Gladiator, which is similar to a studio format, and I feel that going through that prospecting process and working out in that type of environment gives me great insight to offer to my studio clients.
5.) Having trained hundreds of new gyms and studios, what is one thing you believe every user should do on Club OS to positively affect their business?
I think that every user should invest their time in designing an efficient cadence for their follow-up schedule that falls in line with their workflow. Also making sure to include pre-written follow-up scripts to streamline each reach out in the follow-up process for their team. The follow-up schedule is such a powerful tool that can be used to ensure prospects and members are being contacted at the right time with the right message.
After Work
1.) Outside of work, what hobbies or activities do you pursue?
I love playing sports! I play on a sand volleyball team throughout most of the year, as well as a kickball team and court volleyball team occasionally. I really love these social leagues because it's nice having something to look forward to during the work week, and it's a great way to meet people. And not trying to brag or anything, but my sand volleyball team has a few championships under our belt.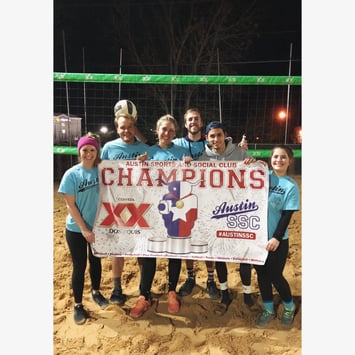 (Mary Kate and her volleyball team winning their 3rd Austin SSC championship.)
2.) You maintain a regular exercise schedule. What's your favorite workout and why do you love staying active?
It's hard to choose. I really enjoy weightlifting at the gym and the confidence I've gained since starting out years ago. But since joining Camp Gladiator, I've become addicted to the group atmosphere and high-intensity workouts. So my favorite would have to be my 6:30 a.m. Friday morning class, because I'm able to work out with two of my fellow Club OS team members and I get to watch the sunrise over the beautiful Austin skyline. I love staying active because it makes me feel accomplished and keeps my body happy!
3.) What is something you can only find in your hometown of San Antonio that you can't find anywhere else in Texas?
Las Palapas! It's a chain that hasn't really made its way out of San Antonio, but they have some of the best breakfast tacos! And oddly enough, some of the best pancakes I've ever tasted. Anytime I go home, I always make sure to plan a trip there with my friends.
4.) You frequently travel with your friends and family. What's the best trip you've ever taken and where do you hope to travel next?
Last August, I went on the most amazing road trip with my parents and one of my brothers. While the hours in the car were long and seemed never-ending, the destinations made it all worth it. We were able to see Garden of the Gods, Rocky National Park, Zion National Park, Monument Valley, and my favorite, Glacier National Park. The beauty this planet offers never ceases to amaze me, and I'll definitely be back to visit all those places again one day. I have so many places I'd love to visit, but I'd have to say Machu Picchu is at the top of that list. I've definitely got some saving to do!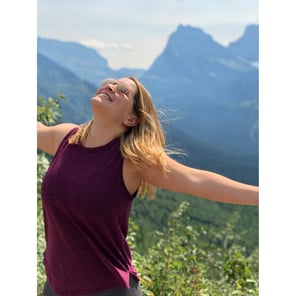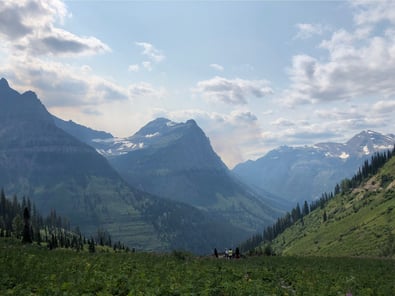 (Mary Kate enjoying the views of Glacier National Park.)
5.) Being from San Antonio, you're naturally a huge Spurs fan. Let's say you could attend every Spurs home game, but you either have to sit next to your least favorite person in the world or dressed as their mascot "The Coyote". Which would you choose?
Oh, 100% dressed as the mascot! The Coyote is always at the center of attention at Spurs games and gets to do whatever it wants! The number of antics I could pull while being that close to the players and Pop, that'd be so much fun! Go Spurs Go!!