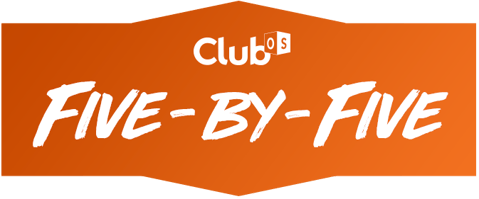 Here at Club OS, we've put together a team of exceptional individuals. They advance our business through professional excellence, they enrich our company culture through diverse backgrounds, and best of all, they make jokes -- mostly bad, but we love that. Every so often, we'll be sitting down with team members for what we're calling "Club OS Five-by-Fives." The premise is simple: Five questions about the awesome work they do at Club OS and five questions about their lives outside of work, which we assume are just as awesome.
This week, we caught up with Senior Manager of Customer Success, John McGrew.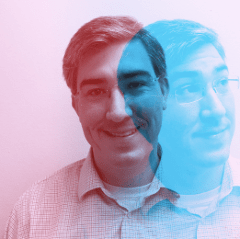 At Work
1.) How long have you been with Club OS, and what are your day-to-day duties?
I've been with Club OS for about 3 months. Day-to-day, I have responsibility for our Help Desk, Implementation, and Account Management functions.
2.) What previous education or work experience do you have that helps you find success in your current position?
I think I'm coming up on a decade that I've been launching and leading B2B, customer-facing teams in various high-growth environments, including software. As you might imagine, lots learned along the way. Nothing more important perhaps than finding smart, curious folks who have the ability to empathize with a customer, and can aggressively solve those customers' business challenges. If I can do that well, I find that we're generally doing a good job.
3.) You manage multiple teams. How do you keep your teams connected and working toward the same goals?
The bulk of my organization is located in our Austin, TX office, which certainly helps. But honestly, whether remote or in-office, I'm finding this one to be pretty easy. When working with the team, it's difficult not to notice the passion that exists for the Club OS product and what it can do for our customers' businesses and lives -- it's impressive. That commonality is definitely rare but does pay large dividends in the pursuit of organizational goals. For my team members that work in our office, there's a lot of cool stuff going on culturally as well that I think helps everyone stay both aligned and focused, and though I can probably take credit for none of it, I'm one of the chief beneficiaries, nonetheless.
4.) "Customer success" is a broad term. How do you define success for Club OS customers?
We have a pretty broad diversity of customers, ranging from family-run, single-club owners to multi-national franchises. Across that spectrum, I'd define our customers' success by the impact our solution has on both their top and bottom lines. Of course, there's a lot that goes into that as the software can do quite a bit, and that's where my teams work their magic. It's pretty fun to watch them demo certain features or teach new functionality, and as the customer gains proficiency, be able to witness the financial results that ensue. Seeing our team and product help customers run their businesses more efficiently and more profitably, is when I know we've done what we set out to do, which is ultimately improving lives through fitness.
5.) In your opinion, what sets the Club OS customer success teams apart from other CRM companies in the fitness market?
I won't speak to what I've seen specifically from other CRM options in the market, but I can say that in addition to the passion I noted, we have a pretty strong depth of industry knowledge and experience across the team. We have quite a few folks that have either worked in or run gyms in previous lives, which is obviously a helpful complement to understanding the nuance of software. As well, I'm pretty proud of the support and training ecosystem that we've been investing meaningfully in. I do think this has become a key differentiator for us. Smaller providers have a harder time making the investments required to deliver world-class, dedicated training and ongoing support. It's definitely neither easy, nor cheap. The larger, less purpose-built solutions have scale challenges with training and support and often enough, customers will need to pay for anything other than the most basic level of training/support. And even then, it's generic and difficult to fully support the needs of fitness businesses. As a program, we're focused on fitting nicely in between.
After Work
1.) Outside of work, what hobbies or activities do you pursue?
With young kids and a really wild, 95-pound dog, I'm not sure what a hobby looks like these days. My wife and I seem to have evolved into bona fide foodies in recent years and Austin happens to be a pretty good place to eat and drink, so I'd say beyond hanging out with the family, I'm about eating. My BBQ and pizza games are pretty strong, but I do constantly stay on the hunt for the best of both.
2.) As a father of two, is the second child easier because you can draw from your past experience as a dad or harder because, well, now there are two of them?
I don't know if I've found it easier necessarily, although the confidence of having kept the first one alive for this long certainly helps. With only two hands, there's definitely an additive effect felt with the second, and I frankly have no idea what folks do when there's a third. But in all truthfulness, it's been the experience of a lifetime. Kids, highly recommend them.
3.) Your hometown of Fort Worth is commonly associated with Dallas as part of the DFW metroplex. Is there a heated rival between the two cities, and if so, why is Fort Worth superior?
I'm not aware of any rivalry within the FWD metroplex.
4.) As a TCU alum, what was the best part about attending a smaller private university rather than a larger public university?
I'll tread lightly here as our Austin office is 15 minutes away from one of the largest public universities in the country, and I may not make it to my car if I'm not careful... Lots to love about the small school experience and education, and if I had to do things over again, I would not have changed anything. Ultimately, it's about finding the right fit and there are lots of considerations -- including having a football team that has beaten Texas 4 out of the past 5 years. Go Frogs!!!!
5.) You can fly for free to any foreign city but when you arrive you only have a passport and $20 in your pocket, which city would you choose and why?
I'm a big fan of remote, tropical beaches and if you're only sending me with $20, I'm probably searching for a strong dollar and purchasing power. At first glance, somewhere remote in Indonesia looks to be the winner.