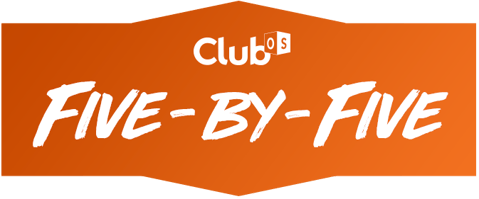 Here at Club OS, we've put together a team of exceptional individuals. They advance our business through professional excellence, they enrich our company culture through diverse backgrounds, and best of all, they make jokes -- mostly bad, but we love that. Every so often, we'll be sitting down with team members for what we're calling "Club OS Five-by-Fives." The premise is simple: Five questions about the awesome work they do at Club OS and five questions about their lives outside of work, which we assume are just as awesome.
This week, we caught up with Marketing Specialist, Calley Mitchamore.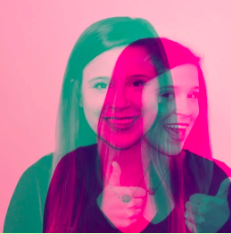 At Work
1.) How long have you been with Club OS, and what are your day-to-day duties?
I have been with Club OS for a little over 3 years now! Every day is a little different (which is great), and it usually includes getting to work with our awesome sales team. Day-to-day I am helping create marketing emails, planning our marketing activity for the week, month, and quarter, managing all of our tracking through the marketing funnel and that's just a part of it. I have the opportunity to work with our advertising team, our partners, and media contacts as well!
2.) What previous education or work experience do you have that helps you find success on the Marketing team?
I went to Texas A&M (whoop!) where I got a degree in Agriculture Communications and Journalism. This really helped me find a love of writing and communicating a brand's message. I also worked as an intern for a bridal wear company which taught me a lot about social media, partnerships, and planning marketing activities up to a year in advance.
3.) Club OS is a solution marketed directly to other businesses. What makes business-to-business marketing different than business-to-consumer?
B2B Marketing has many unique challenges when compared to B2C. The number of competitors in each market space, like fitness, is usually less in B2B marketing, but the pool of prospective clients is also much smaller, creating a highly competitive environment. Marketing to businesses means learning everything about a particular industry, and really learning about your buyer. It's also heavily relationship focused. Usually, a simple ad on Facebook isn't going to convince someone to buy from you, while in B2C that marketing strategy works every day.
4.) From a marketing perspective, what solutions can Club OS provide any fitness business?
Automation and visibility. I can't stress this enough. At Club OS, we couldn't run our marketing campaigns without automation. It frees up so much time, ensures our messages are being sent when we want them to, and creates a more personalized response to prospective clients. We also really believe our customer relationship management software can positively impact fitness businesses, because we rely on a CRM software to run ours. It gives us visibility into who talked to specific prospects, when their conversation occurred, what was the outcome, and more. This is extremely valuable to any size business, and Club OS brings those tools to the fitness industry.
5.) If a fitness business was interested in Club OS, what qualifies them as a great fit for this software?
We love working with all types of fitness businesses! Whether you are a studio or a large fitness center, Club OS has an option that fits your business model. One thing I want to stress is that you don't have to be a tech guru to understand and find value in Club OS. Our team helps you get set up, and from there you quickly learn the ins-and-outs of the software.
After Work
1.) Outside of work, what hobbies or activities do you pursue?
My husband and I live in Austin, Texas, so we spend a lot of time outdoors, especially during the spring and summer! Working in the yard, going on walks with our fur baby, and trying new restaurants around town! We also spend a lot of time at nearby lakes fishing and enjoying the great Texas summers!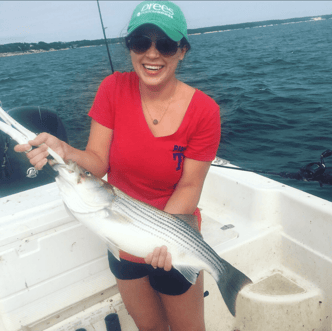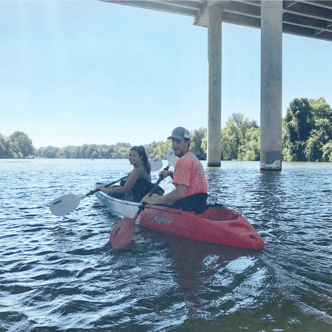 (Calley fishing on Lake Whitney) (Calley and her husband Ross kayaking Lady Bird Lake)
2.) You graduated from Texas A&M which is famous for its many school traditions. What was your favorite tradition?
Can I say WHOOP again in the same interview? We are big A&M fans around here. One of my favorite traditions was the yells that we did during football games. I can honestly say some of my best college memories are during football games when everyone in the stands was yelling the same chant at the same time. It's truly the Aggie Family, and you can feel it most then!
3.) You and your husband are expecting your first child in just a few short months. Have you received any great advice on parenting? Any not so great advice?
Eeek! A few short months is right. We have gotten so much good advice, I would have to say the top piece of advice is just to not take yourself so seriously. We are first time parents, so learning that it's okay to laugh it off, have fun, and just take it day by day. As for bad advice, we haven't heard too much, just old wives' tales that I am learning are all false! Or delivery horror stories, keep those to yourself :)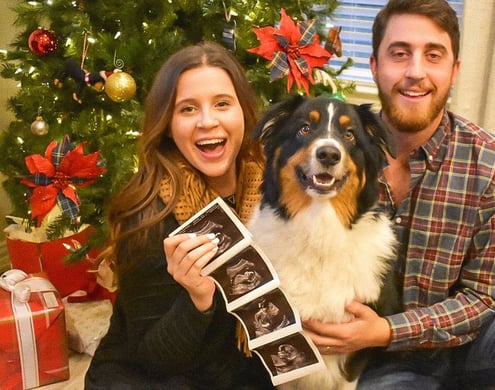 (Calley, Ross, and Hank announce baby Mitchamore)
4.) You've said before that when you go on vacation, you're only interested in going to places with sun and beaches. If you absolutely had to go somewhere cold and snowy for vacation, where are you headed?
If I had to go somewhere not beachy, I would be sad. But, I do have Yellowstone on my list of places to go, and I think that would be absolutely beautiful in the winter! We went when I was a kid, but I would love to go back and enjoy everything it has to offer.
5.) You're a fan of true crime podcasts and shows. What makes true crime stories so compelling, and if given the opportunity, do you think you could solve a crime?
Absolutely I could solve a crime. The answer is no question, absolutely. Ha! I love learning about the stories that weren't covered (or at least in detail) on the news. I think it's so interesting to hear about the case, and I am waiting for the day where a podcast puts information together that law enforcement may have missed! If anyone loves crime podcasts, Crime Junkie is the absolute best!