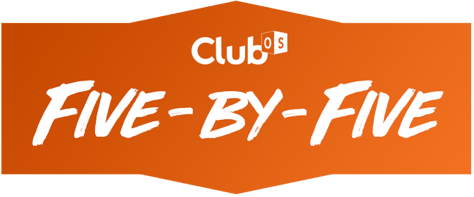 Here at Club OS, we've put together a team of exceptional individuals. They better our business through professional excellence, they enrich our company culture through diverse backgrounds, and best of all, they make jokes -- mostly bad, but we love that. Every so often, we'll be sitting down with team members for what we're calling "Club OS Five-by-Fives." The premise is simple: Five questions about the awesome work they do at Club OS and five questions about their lives outside of work, which we assume are just as awesome.
This week, we sat down with Anytime Fitness Key Account Manager, Bettie Gonzales.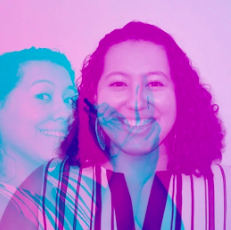 At Work
1.) How long have you been with Club OS, and what are your day-to-day duties?
In August it will be 3 years with Club OS! As the key account manager for our Anytime Fitness clubs, I serve as the liaison between AF Corp and Club OS. So, I will work with corporate staff but also with AF franchisees. I assist with re-training clients as well as addressing high-level questions or concerns as needed.
2.) As key account manager, you act as a go-between for the Club OS development team and Anytime Fitness. How do you successfully manage the communication flow between both parties?
I try to stay super organized at all times! I have my emails, task lists, and notes organized so I know where I have left off and who I need to speak with next to make sure everything is as seamless as possible. I am speaking with AF Corporate, FZ's and internal teams, so I need to make sure I know where projects are at any given time.
3.) You often travel for your position. What are the advantages of getting out of the office and hitting the road?
I do enjoy the change of scenery and pace. I also really enjoy the element of getting to be in front of our clients so they can put a face with Club OS. I have met so many great Anytime Fitness Corporate employees and franchisees that it makes any travel stress I face so worth it. There is just so much we can get from each other by being face to face talking about Club OS. I love that aspect of my job.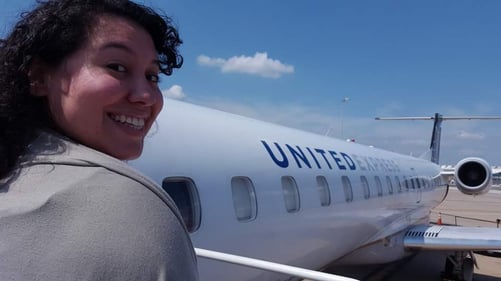 (Bettie en route to the 2016 Anytime Fitness Conference)
4.) Now that you're an experienced work traveler, do you have any pro tips for someone going on their first work trip?
You only need the bare necessities. Do not overthink it. If you do, you will end up packing way too much!
5.) What previous education or work experience do you have that helps you be successful as a key account manager?
I have always thrived in social settings and with public speaking, which I think has made me a good fit for account management. On top of that, I was an account manager with an Austin startup that worked with small business owners. My job was to make sure they were happy with our product and to be there as an extra resource for them. I met both high-experienced and brand new business owners. They all shared so much knowledge with me, and I try to take that with me in my current position. I have a lot to teach our clients about Club OS, but I also have a lot to learn from every one of our clients about their business and their place in the fitness industry.
After Work
1.) You're very tapped into the food culture in Austin and often explore new restaurants and food trucks. If you could only eat from one restaurant or food truck for the next year which would you choose?
OH MAN! There are just so many great choices here, but I would go with Din Ho Chinese Restaurant. It has been around a long time and always has a bit of a crowd. The menu has so many options: the wonton noodle soup, the BBQ pork, the fried rice, the duck. It's all good. A must try in the Austin area.
2.) Outside of work, do you have any hidden talents or hobbies you're passionate about?
I love to travel! I try to take trips as often as I can to see new places, eat some good food, meet new people, and take in the sights. It is always fun to spend some time away in a new place. In addition, I don't know everything, but I'm just saying that you want me on your team for Trivia! I have a lot of random knowledge in my brain that really comes in handy during a game of Trivia.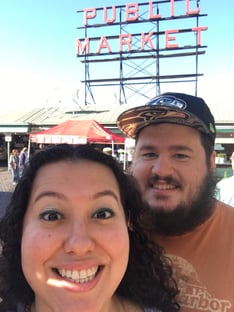 (Bettie and her boyfriend, Kevin, at Pike's Place Market in Seattle, WA)
3.) If you could add yourself as a character to any television show, currently airing or off the air, which would it be and why?
I would definitely say Brooklyn Nine-Nine! The cast is just so great and hilarious. It just puts me in a really good mood, and you can tell that everyone is having a great time too. Also, the more you watch it, the more you get jokes that you did not get before. So glad it was picked up by NBC after FOX canceled it!
4.) You're in the process of purchasing your first home -- congratulations again! -- What's something you will definitely bring with you in the move?
Thanks, we are so excited! Over the years, my boyfriend, Kevin, and I have procured quite the collection of prints and illustrations from different art fairs and Etsy, so those will all have a special place in our new home. I tend to like more artsy prints, while he is big on prints from movies and TV Shows. Bringing those two themes together in one place is cool because you get to see a little of both of us in the space we share.
5.) You're on a sixteen hour international flight in the middle seat. If you could choose, which two celebrities would you have sit on either side of you?
Good Question! I am going to go with Will Ferrell because he would be hilarious, and Anna Wintour, the editor-in-chief of Vogue Magazine, who I find so interesting. I would have her tell me all about the Fashion Industry. I will get some laughs and some fashion knowledge all in one trip!