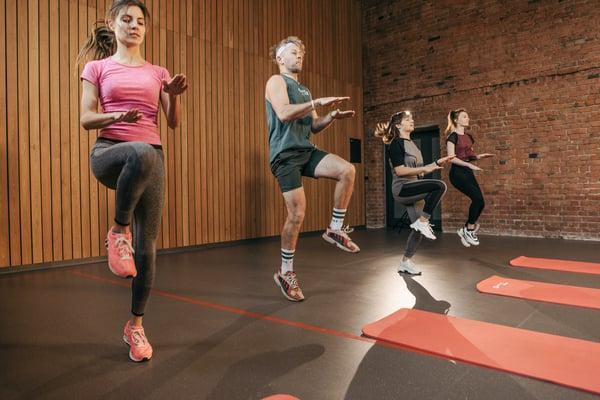 The pandemic saw the world put its fitness goals on hold and gyms close their doors — some temporarily, but many permanently. But now, as people get vaccinated and celebrities like Will Smith remind us that gyms still exist (and how not to use the equipment), gym goers are ready to get back on track.
In fact, according to IHRSA, 94% of people say they'll return to their gym in some capacity once they're comfortable, so it's time to give your prospect engagement strategy a facelift. In this article, we'll walk you through several strategies for engaging prospects to help them move through the sales process.


Personalize the Prospect Experience
The best way to boost prospect engagement and convert leads faster is to move beyond basic personalization and dig deep to get to know what your prospects are looking for in a gym. Then, you can start tailoring your gym's marketing and sales efforts to meet those specific challenges and goals.
According to McKinsey, personalization tactics could increase revenue by as much as 15% and increase marketing ROI by as much as 30%. But to master the art of personalization, context is important, according to research by Adobe, which found that 67% of consumers expect a brand to automatically adjust content based on current context. When that doesn't happen, 42% of consumers "get annoyed."
For example, if a prospect got injured, became pregnant, or lost a job since they first showed interest in your gym, you have to revise your sales script and shift marketing materials to focus on your prospects' new challenges or goals. A lead who may have been drawn to your gym for high-intensity group fitness classes may now be interested in more low key, low-impact personal training sessions.
At a time when 80% of consumers say they're more likely to choose a brand that offers personalized experiences, according to Epsilon, it's more important than ever to personalize as many interactions and experiences as possible.

Offer a Customized Plan for Getting Back on Track
According to IHRSA, 50% of people are less active now than before the pandemic and 1 out of 10 people who haven't kept up their routine have stopped exercising altogether. This healthy-living hiatus puts your gym in a great position for helping people get back on track safely with professionals they can trust.
Although 42% of people miss working out with others and 36% miss their gym's sense of community, according to IHRSA, those who've taken an extended break from working out over the past year are at a higher risk of suffering injuries.
To get people to trust your gym's investment in their fitness journey — and to sign up for a membership — offer prospects a customized fitness plan that will help them get back on track safely. For example, create a 30-day plan for ramping up slowly, a safe plan for training for an upcoming marathon, or a plan targeted at building endurance and flexibility.

Meet Prospects on the Social Platforms They Love
Your gym might be a master at Instagram Stories, but are your prospects watching? Are they even on Instagram? Yes, it's important to be present on every social media platform to build brand awareness and ensure you're reaching the most people possible, but you have to take a more targeted approach when engaging with prospects.
According to Pew Research, 84% percent of adults ages 18-29 in the United States are active on social media, and the average person spends 2 hours and 25 minutes on social media every day. If the bulk of your gym's current members are on TikTok and Twitter, we recommend devoting more time to building personal relationships and engaging with prospects on those platforms (while actively posting on other social channels too).
Here are a few pieces of advice for engaging with prospects on social media:
Don't be salesy. Remember: It's called social media for a reason! Be conversational and avoid selling your gym too hard. Obviously, if they ask for a link to your "Schedule a Tour" page or want more information about pricing, share that information or take the conversation offline.
Comment on their posts. The more you engage with your prospects' content, the greater your brand recognition and the higher the likelihood they'll choose you over the competition. If someone posts a photo of their favorite morning smoothie, toss out a quick "That looks great!" or "We'll be right over …"
Reply to their comments. If a prospect is asking questions or making comments on your posts, respond! Responding and answering questions not only shows your club's human side and helps that commenter, but it also shows anyone else reading your comments how responsive you are.

Entice Them to Come in for a Tour
During the pandemic, reaching prospects from a distance was the norm. It was safe, easy, and what most gym goers got used to. But now, people are vaccinated and ready to get back to their fitness routines, and you need to get prospects in the door to see what your gym has to offer.
So how do you get them to schedule a tour and pursue a healthy lifestyle? Here are a few tips for getting more prospects to schedule a tour:
Highlight your health and safety policies, because 88% of those who have returned to their gym since it reopened are confident in the safety precautions their gym has taken, according to IHRSA.

Offer a virtual tour first, which may help them feel more comfortable about the prospect of coming in, and then invite them to tour in person.

Share testimonials from members who feel comfortable in your club, or even have current members speak with prospects (if both parties are comfortable).

Incentivize prospects with free day passes or training sessions, which can help get them in the door so you can learn more about their needs.
Don't forget to follow up quickly with prospects after they tour your gym. It's easy to let a prospect fall through the cracks, but a quick follow-up could make or break their experience with your business.

Engage More Prospects and Grow Your Club Faster
If you're wondering how to tackle all of these engagement strategies without having — or hiring — a full sales team, it's time to embrace automation. When you let automation do the heavy lifting, your gym's sales team can focus on the most high-touch and high-impact engagement strategies.
With powerful marketing automation and member engagement solutions, Club OS can help you engage more prospects, follow up faster after tours, increase revenue, and so much more. Schedule a free demo today!