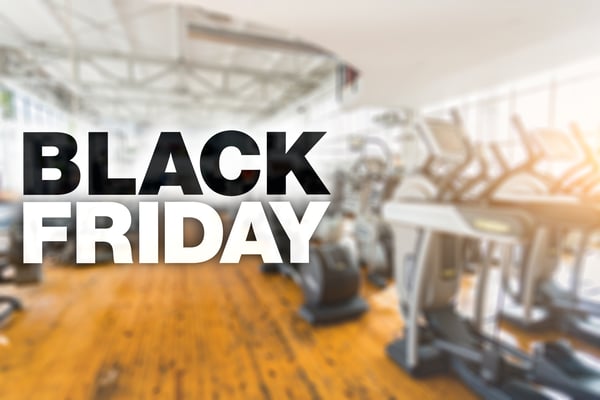 On every fourth Thursday in November, families gather for a relaxing day of eating, drinking, football, giving thanks, and other fun traditions. Everybody goes to bed with full bellies and happy hearts. The next day, over 160 million of those people wake up and race to the stores or their laptops to kick-start the holiday shopping season with a long weekend of deals and discounts.
Black Friday is an annual opportunity for businesses to pump up profits, secure new customers, and solidify loyalty from shoppers. With so many consumers looking to spend faster than they can type their credit card information, this unofficial holiday is the perfect time to drive new memberships and sales for your gym or fitness club.


Black Friday Predictions for 2021
The last nearly two years have been anything but normal. COVID has created new trends for every industry going forward, and the Black Friday market is no exception. Here's what retail experts are expecting from this year's shopping extravaganza:
Online sales will surpass in-store purchases. The growth of post-Thanksgiving weekend online sales was already trending upward, but the coronavirus pandemic gave it an even bigger push with 44% more people scoring all their Black Friday deals online in 2020 compared to 2019.
Black Friday will continue to take over the month of November. Many companies are starting the Black Friday hype in early November, or even October, and continuing their deals into early December.
Supply chain bottlenecks may limit sale options. The coronavirus pandemic has caused supply chain issues leading to delays and shortages for many products, which may limit the available inventory to promote with a sale.
Combined Thanksgiving and Black Friday sales will be up this year. Consumers still want to spend their money; they just want to do it wisely. com predicts 2021 spending to increase 20% to reach $17 billion.


Fitness Industry Trends that Will Influence Black Friday Marketing Strategy
To make the most of your Black Friday marketing efforts, you'll want to hop on the fitness trends we're seeing close out 2021 and open 2022. Here are the trends to consider as your club plans for Black Friday:
Online training

Personal training

Fitness wearables

Group training/classes



7 Black Friday Marketing Tactics for Your Fitness Business
We've come up with a few ideas to help your gym or club launch its Black Friday marketing strategy. Combine them with our all-in-one sales, engagement, marketing, and automation software, and you'll be set for success through 2021 and beyond.
1. Livestream a Black Friday workout event.
Your dedicated members are going to want to work off those extra Thanksgiving calories ASAP. Host a special post-Thanksgiving class on livestream to help get them moving without making them battle the Black Friday shopping traffic. You can promote the class as a free or one-time payment intro to your club for new prospective members too.
2. Offer class or personal training discounts.
Celebrate the day of deals with a special Black Friday rate on group classes or personal training packages. Discounts on these high-demand services will attract new members and current members alike. Get new clients hooked on working out with your team and convince members who have been on the fence about splurging for these services that they're worth it, upping their lifetime value to your club.
3. Run a merch sale.
Retail discounts are a great way to encourage members to shop without cutting into your profit margins. Offer 25% off their purchase or slash prices on individual items (especially if your inventory is lopsided from this year's supply chain problems). Activewear and home workout equipment will be two particularly attractive categories to discount this year.
Oh — and be sure to go heavy on the digital ads to drive sales and streamline the customer checkout experience.
4. Drive holiday spending with a deal on gift cards.
Many people begin their holiday gift shopping on Black Friday weekend, and a gift card deal can offer an easy solution that brings new prospects to your doors. Try something like a percentage discount or dollar-off amount; it'll be hard to pass up a $100 gift card that costs $75 out of pocket. Or offer a buy-one-get-one deal where the buyer gets a lower value card for themselves with the purchase of a gift card.
Not only will something like this be attractive to members, but once they deliver the card to their recipient, their friends and family will be shopping with you too.
5. Give back to the community.
Consumers love brands that have values and stand for them. If they feel like they're making a positive impact on the world when they shop with you, they're likely to spend more.
Especially following the hardships of the last few years, this Black Friday is an ideal time to show your charitable side. You might, for instance, pledge to donate a certain percentage of your weekend profits to a local organization or X amount of money per new membership sold.
6. Reward existing members.
Taking advantage of Black Friday to acquire new club members should certainly be a priority, but don't let your loyal clients fall to the wayside. Offering exclusive Black Friday discounts to current members goes a long way to show them they're appreciated and keep them engaged.
Consider offering discounted personal training or class packages. Or capitalize on the rising wellness trend with a special for a free consultation with a nutritionist or 30-minute massage with any purchase made that weekend. Incentives for existing members add value to your memberships and appeal to new prospects too.
7. Promote Black Friday deals with social media.
Social media will be key to your Black Friday marketing strategy. After all, even if you run the best sales in the industry, if no one knows about them they're not going to make any difference to your bottom line.
Hype up your Black Friday sales on popular social media platforms like Instagram, Facebook, YouTube, and so forth to build excitement and awareness. Be sure to start putting out ads and content early — like yesterday — and keep them going until your deals end. Include a clickable link in every post and ad to streamline the buying process for consumers and boost online sales.



Make the Most of Your Club's Black Friday Marketing Strategy with the Right Incentives
Successful marketing for gyms and clubs is all about motivating the right people to commit to your business. Who are the "right" people? Your prospects, members, and staff — and motivating them starts with appealing rewards.
And to make this Black Friday even better, Club OS is making sure that your members aren't the only ones having all the fun this holiday season. When you schedule your complimentary demo during November and commit to a one-year contract, we're offering you a FREE MONTH of Club OS! This sale doesn't happen often, so be sure to take advantage of this incredible promotion and schedule your demo today!
Happy Holidays from your Club OS family!