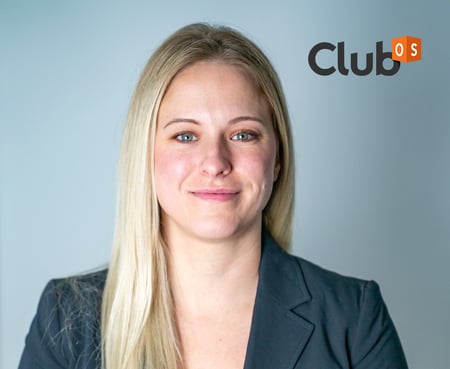 At Club OS, we pride ourselves on making sure we understand our customers' needs and taking the time to learn about their various demands in a software. By hiring staff that truly understands the industry as a whole, we ensure that we can help your club's goals become reality, and simplify your workflow in the most convenient way possible.
Meet Kristen Coy, Club OS Product Manager
Kristen Coy is a Product Manager for Club OS who comes from years of experience working on the ground in various gyms. She worked her way up from manning tanning beds to becoming a certified personal trainer. Our orientation is always about putting our customers first, so we prioritize hiring a strong team of professionals who truly understand what clubs need in order to become successful.
Kristen makes an excellent product manager because she is always focused on putting the clubs' needs first. Not only does she come from years of club experience, but she spent her first four years at Club OS as a Key Account Manager to our top customers. She spent that time listening and doing her best to understand her customers' individual needs. Kristen's passion for customer's success has been energizing at Club OS. She views her own success as the aggregate of her customers' success. She was instrumental in turning her customers into our leading Club OS users, and she set all the standards that our customers are trying to meet.
Kristen's diverse background has led her to become an integral part of planning our company's future, and we took the time to talk to her about making the shift into the software industry, and how her background has helped her become so successful today.
Kristen's Professional Journey
Tell me a little about your background in fitness and how you got to where you are now?
There was a two-location, women's only gym in Austin, TX that I applied to a little before going to college. I worked there starting in the tanning salon and front desk, and I started moving up once I began attending school. It was a family-run business, and I got pretty close to the owner. So I started helping out, doing a little bit of everything across their locations: I got into membership sales and group fitness directing, I helped her start part of the personal training department, I did a little bit of HR. I definitely had my hands in a little bit of everything.
During that time, I also got certified to be a personal trainer, and ended up meeting a friend through the owner who ran a personal training company out of a country club. I started doing personal training through them as well, and when I was graduating school, the gym I worked for decided to close down and reopened as another company. It happened to be great timing since I was graduating, and that's how I eventually found Club OS. I started in implementation, moved to account management for 4.5 years, began working in Customer Enablement after our COVID restructure, and eventually landed in Product Management.
Why did you make the shift from being in the gym to working as a Club OS product manager?
When I graduated college, I started my search looking for all different types of jobs across the fitness industry. When I found Club OS and did some research on the company, it made me realize, "Oh! This is what we were missing the whole time!" We did everything manually, which was such a nightmare. I spent hours each week doing certain tasks, and when I found Club OS, I realized I could have saved hours every week by using their software. Once I saw those opportunities, I immediately jumped on it.
What did you find to be the biggest challenge early on when transitioning from working firsthand in the gyms to working in fitness software?
I think it was moving away from my thinking of doing everything manually, to seeing how all the automation worked. I just had to wrap my head around it and understand it before I could officially take that step. I think that's actually how a lot of customers feel when onboarding to Club OS. A lot of them have been practicing the same methods for 10 years before I start to explain to them that there's a new, more efficient way to save them both time and effort.
How do you think having such a strong footing in the fitness industry has helped you now in your current role at Club OS?
I think it helps when I hear somebody asking for something specific. Since I've been in their footsteps before, I'm able to think not just about what they're saying but about why they want it. I can put myself in the mentality of working in the gyms, ask myself why I would personally want it, and realize that we don't just need to build that one feature for them; we ultimately need to open that up and build additional features that help them all solve that problem.
Kristen's Take on the Evolution of Fitness Software
How has the fitness software industry evolved over the past few years, and what do you see as the biggest challenge for gyms/clubs moving forward?
In terms of growth that I've witnessed, there just wasn't a lot of technology out there. I feel that the fitness industry has always been a little behind in that aspect, and I think there's been a much bigger boom recently. One thing clubs might be struggling with is the fact that there are so many vendors out there now. Sometimes clubs might attach themselves to too many vendors and products without thinking about how they all work together. You have to find the right vendor that works best for you and discover how to use all of the software together as a single ecosystem.
Kristen's Take on Club OS
What do you like most about being a product manager for Club OS?
Probably having a new and exciting feature coming out and being able to explain it to the customers. It's very rewarding hearing all of their feedback, and discovering all the ways our product is helping them uniquely at their location.
What is your favorite feature in Club OS that you think most of our customers benefit from?
I honestly think the way that the entire software was built so specifically for the fitness industry. The entire workflow has something for every point in the prospect-to-member journey, and when people learn how to utilize the automation features we offer in the best way that works for them, it can be extremely helpful.
What are you most excited about for the future of Club OS?
I think I'm most excited about providing more insights into the industry and empowering businesses to make decisions about their club and within their software based on those insights. I'm excited about giving Club OS users the ability to see not just what is happening at their own clubs, but also insights into the industry as whole through a wide range of data. It's great to set a goal to call people Monday–Friday, for example, but what really is the best time of day to make those phone calls? What's the likelihood of someone joining if you call Monday versus calling Thursday? Then club owners and managers can apply that information and staff heavier on those best-call days in order to follow the best practices that we see working for other clubs.
Kristen's Advice for Club Owners
What advice would you give to gym/boutique owners looking for software to run their business?
I think it goes back to really evaluating all the different vendors and recognize how they work together. Instead of liking one feature with one vendor, and buying another with a separate feature that might be appealing, it's best to find the software that has the most features you want, and work with them to expand to the things you might see as a gap. Club OS is great with integration and finding ways to help you discover opportunities you might be missing at your specific club.
Any closing thoughts or insight for clubs that might be nervous about making the step in purchasing a new software for the first time?
When you're looking at different technologies, finding one that you can work with, that understands the fitness industry, is crucial. Those vendors will problem-solve with you. You don't get that option if you're partnering with a software vendor with representatives who don't understand the industry. They might be great with tech and have some really neat features, but if they're not thinking about your business model, it may not work out. It's really important to find a solution from a company that understands the industry and cares enough to take the time to understand your club.
Let us show you the power of Club OS, and how our new features can help simplify your workflow! Schedule a complimentary demo today by clicking the BOOK A DEMO button above!