Watch the full Making Your Members Your Influencers on-demand webinar.
It's no secret that the fitness industry is ever-evolving. One trend that has evolved (and has proven it's here to stay) is the emergence of Gen Z as a significant market segment that can make or break a gym's success.
Adapting your approach to appeal to this tech-savvy and health-conscious generation could be a key tactic to driving profitability and creating an engaged, loyal fitness community with significant long-term revenue opportunities for your gym. In our latest Talk Data To Me webinar, Sarah Pellegrino takes a deep-dive into just that with Nick Hernandez (Senior GM, World Gym Texas City and Houston) and Nick Hahn (VP of Product, Club OS).
In this article, we'll dive into that discussion with them, exploring why Gen Z presents a huge market opportunity for gyms. We'll also take a look at the effective tactics used by World Gym and other Club OS customers in harnessing Gen Z 's social media prowess to create a loyal following of "micro-influencers" with powerful, user-generated content to catapult your club into social media stardom and increase brand awareness.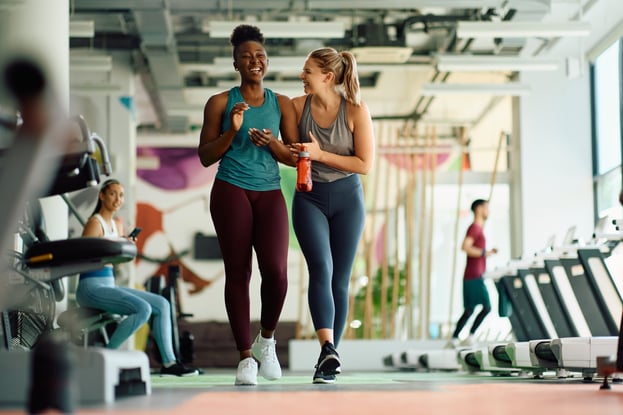 Who Is Gen Z?
Broadly speaking, Generation Z or Gen Z refers to individuals born between the mid-1990s and early 2010s. As of 2023, Gen Z members are between the ages of 13 and 26 years old, encompassing high school students all the way to college students and young working professionals.
Within this group, there are a lot of different motivations and fitness goals that get people to the gym. But one common theme that unites them all—and the most important one to consider when targeting this membership demographic—is digital technology and social media.
Why Is Gen Z a Crucial Target Audience for the Fitness Industry?
So, how does the "digital generation" approach health and fitness? And why are they such an exciting potential market for gym owners to tap into?
According to Murphy Research, 70% of Gen Zers are actively engaging with fitness (wearing a fitness tracker or using a fitness app at least once a week) and a massive 43% of the 60,000 Gen Zers surveyed had a gym membership.
Indeed, at World Gym, almost half–46% (Texas City) and 48% (Houston)–of new membership sign-ups are Gen Z!
The ability to effectively communicate, engage with, and motivate this target market was of paramount importance to World Gym to drive new memberships as well as long-term brand loyalty. Not to mention the added potential of being able to nurture a life-long commitment to fitness within the Gen Z community from a young age.
Why Do
Fitness Influencers Resonate So Well with Gen Z?
Gen Z represents the first post-internet generation that doesn't remember a time that they weren't online. Their lives and social communities are so intertwined with digital technology and social media that they're practically inseparable. In fact, according to a recent study, almost a quarter would rather give up sex than their mobile phone.
With the rapidly increasing number of fitness influencers taking to social media platforms like Instagram, YouTube, and TikTok, it's no surprise that Gen Z is already consuming, sharing, and posting fitness-related content on social media. Especially considering that over 60% of TikTok's 1.7 billion users are of this generation.
Their social media habits make Gen Z especially receptive to so-called "gymfluencer" marketing. Not only are these members engaging with fitness influencer content, but they're also making real purchasing decisions based on influencers. Statistics show that as many as 33% of Gen Z bought a product recommended by an influencer in the last 3 months.
When you consider these insights into the demographic, it's clear that fitness influencer marketing campaigns are vital for gyms that want to bring in more Gen Z members.
How to Successfully Implement Influencer Marketing Tactics to Target Gen Z
If as many as half of your new members are Gen Z, it's crucial to understand the psychology behind what drives them, how they prefer to communicate, and how they behave while they're at the gym to fully tap into the potential of this market.
As Nick Hernandez of World Gym goes on to demonstrate, capitalizing on Gen Z's passion for social media was pivotal to helping them grow their membership. Using social media, World Gym was able to generate warm referrals, increase their brand presence, and create a virtual army of social media micro-influencers.
What's more, many of their new Gen Z members were happy and willing to share their testimonials, create amazing social content, and contribute to a thriving and vibrant fitness community. The best part? By harnessing this user-generated content, you're effectively letting your members do your marketing for you for free!
If you're going to start to leverage an influencer marketing strategy, it's important to note that the right fitness influencers to make an impact for your gym aren't always those with a massive online following.
For example, engagement rates on TikTok are over 3 X higher for micro-influncers (sub 100K followers) compared with their macro (100K+ followers) counterparts. That means that Gen Z gym members who are active on social can still make a substantial impression when they share content connected to your fitness brand, even if they're not the next CrossFit fitness celebrity or sponsored by Gymshark.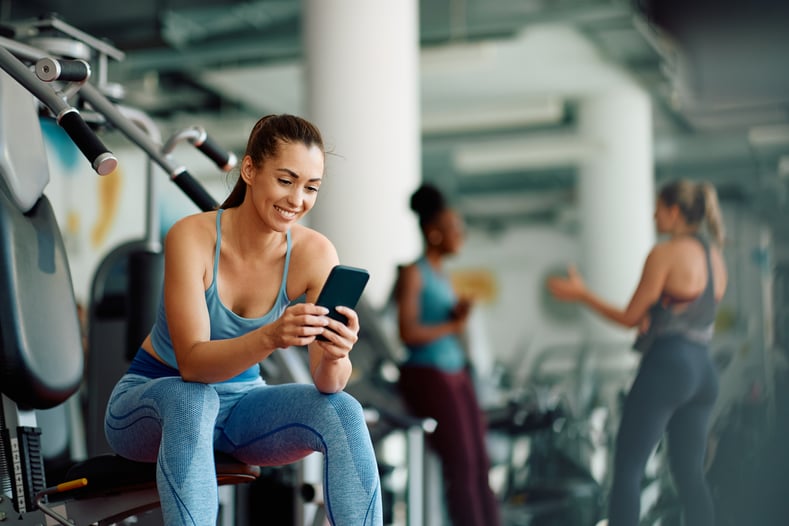 How World Gym Turned Their Gen Z Gym Members Into Fitness Influencers
As we've established, almost half of Gen Zers are active gym users, social media savvy, and highly receptive to influencer marketing.
But how can you use these insights to target and attract Gen Z members, ultimately leading to revenue growth, increased social media engagement, and a firm foothold in your local market?
In the following section, we'll cover our top tips around how to build an influencer marketing strategy using World Gym as a key example of how to do it right. Before you know it, you'll have your own fitness influencer marketing agency right within your own community.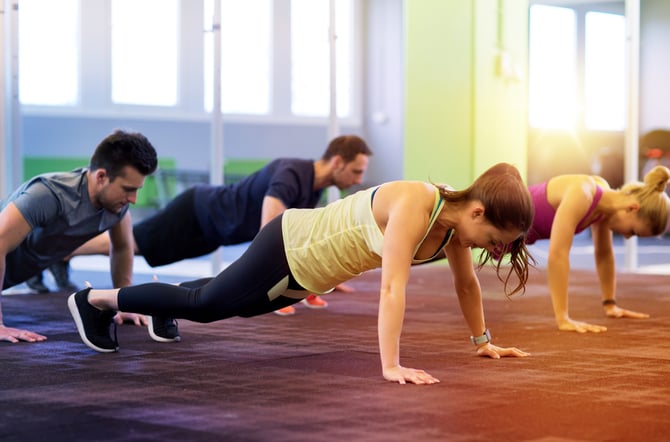 4 Steps to Creating a Win-Win Partnership with Gen Z to Influence New Membership Sales
Tap into Gen Z's motivations and encourage friendly competition.

World Gym Texas City & Houston found that their Gen Z members often preferred working out as a social group. They also enjoyed friendly competition and were more motivated when they were "hyped up" in a high-energy atmosphere to express themselves among their peers.

To infuse that excitement into their Gen Z members' workout experience, World Gym had coaches from their Athletics Program come out onto the gym floor to hype them up. Their team focused on mimicking the high school or college environment that most of these members were used to in an effort to motivate, engage, and keep them coming back for more.

By appealing to their social competitiveness, World Gym was able to create warm referrals via attracting and converting any non-members within their Gen Z members' social circles.

After all, if you see your friend getting all the social media glory for bench pressing a measly 150lbs, why wouldn't you sign up to the same gym to prove to the world that you can out-lift them?

Create in-house social media content directly from the gym floor.

World Gym started developing their influencer marketing platform by having their Marketing Director out on the gym floor shooting video footage of their members (with consent!).

The content ranged from Gen Z members working out to video testimonials about what their members loved about their gym experience. They even asked members about their go-to music or playlist for getting pumped up for a workout (with the option to play it on the gym's own sound system).

Not only would this footage prove to be gold when shared on social media, but by playing their members' music in the gym and featuring their workout videos on their Jumbotron and TV screens around the gym floor, World Gym was able to create a fully immersive and community-led atmosphere. This helped them generate high engagement and demonstrate that they were committed to building their fitness brands around their members.

For members who were reluctant to post their own videos, World Gym created a collaborative environment by encouraging their members to send across raw video footage. They shared their Marketing Director's direct contact information or had members send footage as a direct message, and then had the footage professionally edited and posted it on World Gym's corporate account.

Using this technique, World Gym created high-quality video testimonials which portrayed their members as fitness micro-influencers, all the while creating a mountain of killer content to use as marketing material on social media.

Leverage user-generated content across multiple social media platforms.




Sharing user-generated content (i.e. content created by your gym members) is a fantastic way to both spotlight your members and to create free marketing content to promote your gym.

According to a recent study, 84% of Gen Z tend to trust brands who use real customers in their ads. So, using authentic user-generated content as social proof also helps to build trust with your Gen Z prospects and makes it easier to convert them into paying members.

World Gym created a successful influencer marketing campaign by encouraging their members to share their gym footage across multiple channels, like TikTok and Instagram, and re-posting the videos via World Gym's corporate account.

This meant that their Gen Z members were not only promoting World Gym to their own social networks and followings as micro-influencers, but also creating free marketing content for them to repurpose for their own marketing campaigns.

Incentivize your members to share their gym wins, experiences, and training routines on social media.

When it comes to encouraging your Gen Z members to post their gym content on social platforms, consider offering an incentive.

For instance, you can run contests or merchandise giveaways to reward members who spotlight your gym on their profiles. Or featuring their contributions on your official gym or studio accounts to amplify their voices is another great way to offer a win-win incentive.

World Gym, for example, asked their members to show their biggest flex, share images from their designated "Posing Room," and tag them on their workout routines to receive a "shoutout" through World Gym's official social media account. By doing so, they offered their members the opportunity to boost their own followings and engagement on social media, helping to propel the next generation of athletes and fitness stars into social media fame.

Get Started with Better Marketing for Your Gym

With an all-in-one gym management software like Club OS/ASF at your side, it's easy to implement your killer fitness influencer content into your sales and marketing processes. Our features make it simple to hook your prospects, deliver authentic marketing emails to showcase your club, and drive more revenue for your fitness business.

Ready to learn more about leveling-up your gym or studio? Book a demo with our team today!