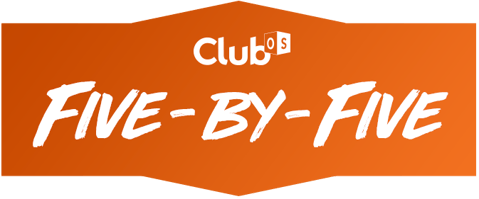 Here at Club OS, we've put together a team of exceptional individuals. They better our business through professional excellence, they enrich our company culture through diverse backgrounds, and best of all, they make jokes -- mostly bad, but we love that. Every so often, we'll be sitting down with team members for what we're calling "Club OS Five-by-Fives." The premise is simple: Five questions about the awesome work they do at Club OS and five questions about their lives outside of work, which we assume are just as awesome.
This week, we spoke with Senior Implementation Expert, Mike McKinnon.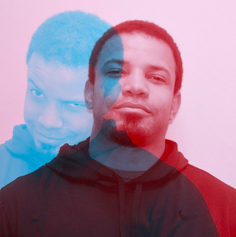 AT WORK
1.) What are your day-to-day responsibilities?
In August, it will be two and a half years. As Senior Implementation Expert, I am responsible for onboarding new clients and creating workflows that best fit their current protocols they have set in place for their organization. I am also responsible for rolling out new products and services to both new and old clients, and effectively training them on the products themselves.
2.) What previous experience do you have in the fitness industry?
My first job in the fitness industry was as a supervisor for Lifetime Fitness back in 2006 for two years, and then as a manager at Gold's for three years after that. I also did sales for LA Fitness for an extent of time before moving to Austin.
3.) How does your experience as a club manager help you in your current position at Club OS?
It gives me a common ground with the clients. They feel comfortable talking me through the pain points they currently endure on a day-to-day basis. It also gives me a vision when communicating with each client about what their day-to-day operations look like, and how they can utilize Club OS to increase production and sales both structurally and effectively.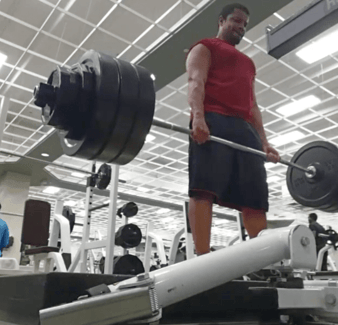 4.) What is the most common pain point Club OS helps solve for club owners and managers?
I like to use the phrase, "leave no lead left behind". I say this because one of the most common issues clients see within their organization is that leads sometimes get lost or fall through the gaps, whether it is due to a loss of an employee, loss of paperwork, high volume of traffic or just plain forgetting. In Club OS, you will always have your leads within the system to pull from at any given time of the year, whether it's for closeout for the month or the year or for new hires to get started with.
5.) What advice do you have for new Club OS users to make the biggest impact on their club's business?
Setting Dashboard goals and creating follow-up scripts. It does take time to perform these tasks, but the overall result will help to increase production and transparency for the organization.
AFTER WORK
1.) Outside of work, what hobbies or passion projects do you pursue?
I am competitive by nature, so anything sports related or competition based I love to get into. Pretty much anything new I would like to give it a try, even if that means I have to get over a fear to do it. Example, skydiving. I hate heights. Let's just say I contemplated my whole life during that moment.
2.) You've lived in a lot of different places in your life. What city/town do you consider your hometown, and what do you love about it?
That's a good question. I love each place for its different reasons. I love each place for its different reasons. I love Virginia and Maryland for their fast pace, go getter, straight-to-the-point type of culture, but I love Texas for its calm, smooth and relaxing culture. Now don't get me wrong, I love my Washington Redskins and will continue until my last breath, which does create a great family reunion discussion, but having mostly sunny weather throughout the year is great as well (until it hits that above 100-degree weather).
3.) You have a little one at home (and sometimes we're lucky enough to have her visit the office). What's one aspect of being a dad you weren't expecting?
You mean other than the fact that I am a man raising a daughter? Everything! To all you dads of daughters reading this, I tip my hat to you, and I feel your pain! But really, one thing I wasn't expecting is the pride you take as a parent for the small things your child does and developments as they grow older. Whether cleaning up their own mess, potty training, or... defending themselves from another kid, yeah I said it. I now know what Will Smith and Martin Lawrence felt in that scene in Bad Boys 2.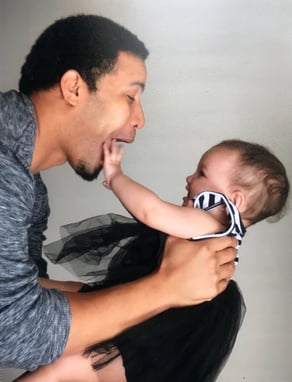 (Mike and his daughter)
4.) You live in San Antonio and commute to our offices in Austin. Do you have a commuting strategy? A way to make the long drive in traffic easier or more enjoyable?
I'm big on music so that always helps, especially when hitting the "Makes no sense" traffic. I have also been listening to many audiobooks that help to take my mind off the time while on the road.
5.) What's an alternative career path you were always interested in?
So many to choose. I mean, physical therapy has been and still is of interest to me; knowing how and why the body works the way it does. But also, business analytics has become a recent love of mine. Just seeing how a business continues to develop based off past performance.