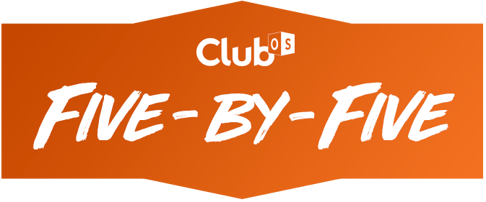 Here at Club OS, we've put together a team of exceptional individuals. They better our business through professional excellence, they enrich our company culture through diverse backgrounds, and best of all, they make jokes -- mostly bad, but we love that. Every so often, we'll be sitting down with team members for what we're calling "Club OS Five-by-Fives." The premise is simple: Five questions about the awesome work they do at Club OS and five questions about their lives outside of work, which we assume are just as awesome.
This week, we interviewed Software Engineer, Patrick Bense.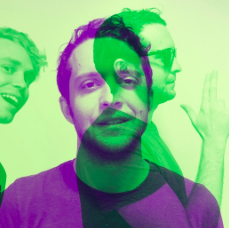 At Work
1.) How long have you been with Club OS, and what are your day-to-day duties?
I've been working for Club OS for almost two years. On a day-to-day basis, I'm usually focused on new client-facing features, improving the existing user experience or tackling bugs related to the web application.
2.) What previous education or work experience do you have that helps you be successful as a software engineer?
I've worked in a variety of environments that required different skills and adaptations. Before Club OS, I worked in support and helpdesk assisting veterinarians to build websites for their practices, a small design studio of four employees where being a 'jack of all trades' was a necessary skill, and a healthcare company where cohesion of development and design departments was put to the test.
3.) How does a focus on the user experience shape the development process for new features?
Our process is iterative as we take an idea from inception to final product. Sometimes we build a feature one way only to realize it's not intuitive for the user and have to go back to the drawing board. Occasionally we even pull ideas from the application in order to simplify and drive a user to discover how to accomplish tasks better. Working on the front end, you learn quickly to accept that things will be constantly changing as they are developed.
4.) What are unique challenges for front-end engineering?
Our part of the process is the culmination of many people's hard work. Not only are we trying to make the best possible experience for our clients, but we have to make sure we adhere to business and design standards. Front-end engineering relies heavily on constant communication between all sorts of teams and people, which can make balancing "heads-down" time, a.k.a uninterrupted work, with meetings and ad-hoc conversations difficult.
5.) What advice can you give to someone just beginning to study software engineering?
Build stuff! One of the best things you can do when starting out is to take an idea, no matter how small or useless, and see it built to completion. You can spend all day reading textbooks and passing quizzes on Code Academy only to feel you haven't retained anything. Melding programming with a personal interest, you'll run into problems that you have a natural drive to solve. That's the fun part of engineering. It may not solve world hunger, but your mom will share your random cat pic app with her friends at work.
After Work
1.) Outside of work, do you have any hidden talents or hobbies you're passionate about?
I don't know about talents but most of my free time is spent at jiu jitsu or playing guitar. Both hobbies are challenging and lifelong pursuits which I find rewarding. Jiu jitsu forces me to live in the moment, mostly because you can't dwell on the past or worry about the future when someone is trying to strangle you. Aside from that, I love going on hiking/backpacking trips, the occasional race/obstacle course and traveling.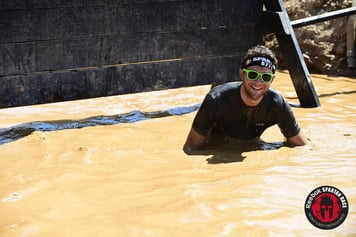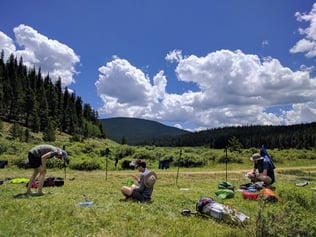 (Pat tasting mud during a Spartan Race at Blue Mountain) (Pat and friends drying out gear at 10,000 feet on the Colorado Trail)
2.) If you had to retire from the tech industry tomorrow, what's an alternative career path you would pursue?
I am happiest when I can help someone in any way so I'd probably lean towards being a teacher if I had the credentials. Sometimes I dream about being one of those savvy old guys on Life Below Zero or Mountain Men living off the land, but I probably wouldn't last the first winter.
3.) As a Philadelphia native, what's your favorite part of the city? What's your least favorite?
My favorite part of the city is probably the architecture and the fact that you can walk to all the major neighborhoods without much effort. Least favorite... although I don't frequent them as much anymore, the train stations in Philly could use some love. As the first stop for many visiting tourists, it doesn't paint a great picture of the city as the first thing you experience.
4.) You're a fan of the Japanese reality show Terrace House that the New York Times described as "punishingly mundane". What makes this objectively boring show so watchable?
I feel like my whole life has led to this moment... We live in a time where people are constantly trying to show off their lives and "one-up" their friends; where we obsess about capturing moments instead of living in them. Terrace House puts the focus on "mundane" challenges we all deal with on a daily basis, and they are broken down meticulously by a cast of comedians and actors to ridiculous detail. Among other things, it's a reminder that empathy toward those around you trumps everything else. Also, the theme song is catchy. Alright, I'll shut up.
5.) If you could make a living as a professional athlete, which sport would you choose?
Definitely a hockey player. I barely played as a kid but have followed as far back as I can remember. I'd hypothetically make millions, get to travel the country AND 99% of the United States population wouldn't know my name or recognize me. Count me in.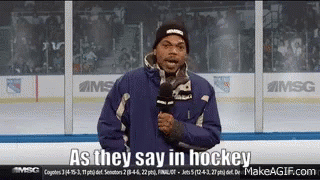 Bonus! If you could spend the day with any celebrity, who would it be and why?
This is a tough one as I'd have a different answer any given week. I'd go with someone I can learn the most from in 24 hours. Anthony Bourdain would be awesome to hang out with because he's been able to build a unique perspective on life through traveling the world. It helps that he's also interested in jiu jitsu so there is some common interest.