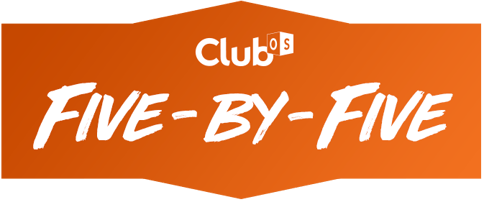 Here at Club OS, we've put together a team of exceptional individuals. They better our business through professional excellence, they enrich our company culture through diverse backgrounds, and best of all, they make jokes -- mostly bad, but we love that. Every so often, we'll be sitting down with team members for what we're calling "Club OS Five-by-Fives." The premise is simple: Five questions about the awesome work they do at Club OS and five questions about their lives outside of work, which we assume are just as awesome.
This week, we caught up with Lead Front-End Engineer, and recent Employee of the Month, Matt Elliott.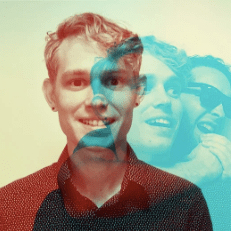 At Work
1.) How long have you been with Club OS, and what are your day-to-day duties?
I've been with Club OS for over three and a half years, and I'm currently a lead software engineer. I'm having a hard time thinking of how to describe what I do. I'd say my two main responsibilities are to lead the engineering team based on each individual's strengths and to advise the product team as an engineer. My daily tasks mostly consist of peer-reviewing code, tweaking our development and deployment strategies, and architecting solutions with the product team.
2.) What previous education or work experience do you have that helps you find success in your current role?
Before Club OS, I worked at a smaller software company. There, I learned how to wear many hats. I came onto the Club OS team as a front-end engineer but was immediately able to serve as a designer, back-end engineer, product manager, and marketer. Since then, we've filled most of those positions with much more talented individuals. Overall, I'd say these experiences provide me with a healthy amount of empathy for other departments.
3.) How is Front-End Engineering distinct from Back-End Engineering?
Front-end and back-end engineering require mostly the same knowledge and skill. The key difference is the interface that each engineering role develops. Front-end engineers develop user interfaces, while back-end engineers develop application programming interfaces (APIs). To me, front-end engineers have the fun job of listening to customers and imagining what it would be like to use our product in the field. We take into consideration things like bad wifi signals, or that you may be using Club OS while attempting to maintain eye contact with customers, or that you're driving to another location while downloading a report so you can talk strategy with a location manager. We take all these things into account when developing success and error messaging, or when reviewing designs for a workflow.
4.) What communication practices do the Engineering team employ to make sure the entire department is synchronized and working toward the same goals?
Most of our communication is centered around user stories. We frame problems as user journeys, where we include details about who has a need and why there's frustration or friction without a solution. This way, our engineers can design a solution for the user, not the problem. We involve a lot of people to bring these stories to life, including individuals from the Product, Design, Quality Assurance and Marketing teams. Beyond stories, I'd like to say we've structured our communication to be proactive instead of reactive. We hold Release Retrospectives to identify what went well, and what we can improve for next time. We also hold Engineering Sync meetings, where we can talk about industry trends, and the direction we want to go with our technology.
5.) What upcoming updates to Club OS are you most excited about?
I can't tell secrets! Okay, maybe one. We're beginning to phase in a new design system. User experience is something we're always trying to improve at Club OS. Recently, we started looking into functional systems for design that would help us establish consistent experiences. My teammate, Nick Laffey, had been experimenting with one system in particular that ended up meeting our needs, so we went with it. If we were to talk about design like music, in the past, our guidelines allowed us to play any musical note we thought would sound good. Now, this system acts like a scale for choosing the right notes and provides guidelines for creating pleasant note progressions. We're really excited to get these experiences into our users' hands.
After Work
1.) Outside of work, what hobbies or activities do you pursue?
Outside of work, I get to enjoy spending time with my wife, Christa, and my dog, DeeDee. I'm pretty active in my faith. We spend a couple of hours a week doing faith-related activities, and I play guitar and bass in the worship band. Music and backpacking are my favorite past times. Other than that, I can nerd out with some board games or Dungeons & Dragons.
2.) As an experienced hiker, what has been your most rewarding hiking experience? Any scary trail stories?
There have been so many rewarding experiences from hiking and backpacking, but I'd have to say going over Glen Pass in the Sierra Nevadas in California was a particularly special moment. It was close to sunset, so the mountains were orange and blue. It was surreal how beautiful it was. As for scary experiences, I've run into quite a few bears, rattlesnakes and thunderstorms. The scariest experience was when I was super dehydrated while backpacking the Colorado trail. We were going through a large burn area that had no water, and it was well over a hundred degrees outside with no humidity. That's the only time I've really thought about how vulnerable I was to the environment around me. The situation wasn't extremely dangerous, but that thought freaked me out.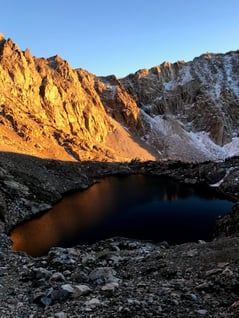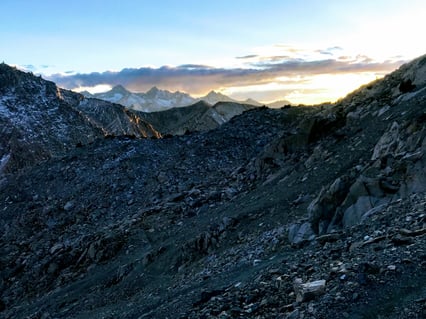 (Glen Pass, Kings Canyon National Park)
3.) You're originally from Kansas City, MO. Is there a cross-state rivalry between the Kansas and Missouri sides of the city? If so, is there really a difference between them?
Well, as a former Missourian, I'm obligated to point out that Downtown is in Missouri, as well as the Chiefs and Royals stadiums. Growing up, there seemed to be an even split between University of Missouri and University of Kansas alumni. The Tigers and Jayhawks used to be grounds for a rivalry when Mizzou was in the Big 12, but it's not as big of a deal these days. Actually, the mascots reference an American Civil War rivalry. Look up the Border War if you're interested. Other than that, Kansas drivers aren't good at, well… driving.
4.) You and your wife attend regular trivia nights in Philadelphia. Do you each have areas of expertise you bring to the team?
I know nothing trivial, while she knows most everything trivial. Her specialty is movie quotes. I'm just there for emotional support and snacks.
5.) How long have you been playing music, and what are a few of your influences?
I don't remember when I started playing music, but I know it started with a toy accordion. I was able to cover melodies of popular songs at the time by ear. In school, I played cello. I didn't find what I was playing fulfilling so I switched to guitar, which is now my primary instrument. I'd say my main influences are from rock and electronic genres. Some long-time influences are Circa Survive, And So I Watch You From Afar, From Indian Lakes, Lemon Jelly and Noisia.
(Listen to Matt's original track "Can".)